GaGa Defends Title at Lanier Winter Invite
12/19/16 - Gwinnett Aquatics defended its title at the Lanier Winter Invite in Gainesville this weekend edging out Lanier Aquatics and SwimAtlanta (one of its facilities anyway). We had an especially good output from our 10Us who won their age groups by over 1600 points!
Over the three-day meet we had ten swimmers win over 230 events and twenty more medal! We had 14 swimmers picked up new time standards and four get their first state cut!
Event Winners: Hanna Burke, Lauren Diehl, Russell Hart, Marlowe Misner, Brielle Mitchell, Darnell Mitchell, Alex Norcini, Sofie Rees, Isaac Saenz and Dylan Yin.
Additional Medalists: Marilyn Coughlin, Abby Culbertson, Grant Deckers, Ruthie DeLong, Lindsey Diehl, Harry Duncan, Charlie Fountain, Lindsey Garrison, Ryan Haskins, Daniel Johnson, Kate Johnson, Paige Johnson, Hannah Claire Jowers, Danielle Mitchell, Maggie Nguyen, Caitlyn Petmecky, Michael Thompson, Anishka Trehan and Freddie Xu.
Standard Breakers:AA - Rachel Peden; A - Hanna Burke, Lindsey Diehl, Jarod Disher Caitlyn Petmecky, Desymber Richie, Riley Spruiell, Dylan Yin; BB - Harry Duncan, Ryan Haskins, Emily Morgan, Cate Rovie, Ella Smith; B - Alyssa McDuffie.
New State Qualifiers: Caitlyn Diehl, Charlie Fountain, Darnell Mitchell, Janelle Mitchell.
Now we have a great opportunity for even more improvement during the holidays to get ready for the Rays Invite and Eastern Classic and the bigger championship meets in February and March!
Results | GwinAq Results
Standard Breakers
---
Seniors Pass First Big Test at Georgia State Champs
Fountain medals, Norcini, Jahns score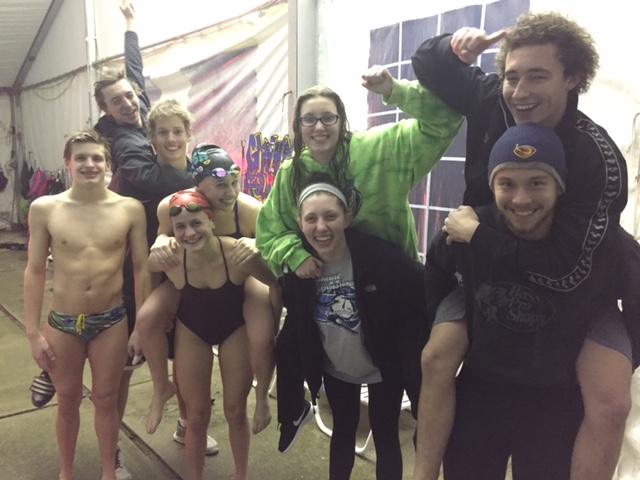 12/12/16 - Gwinnett Aquatics' senior swimmers had their first real test of the the season this weekend at Senior State Champs en route to a fourteenth place finish and fourth in the medium teams group. Josh Fountain was the loan top-10 finish taking 3rd in the 1000 free while Alex Norcini and Sarah Jahns also scored. Norcini had an 8th place finish in the 400 IM negated by an unusually strict application of the "Lochte rule". Both Jahns and Norcini picked up their first AAA times of the season. Lauren Diehl and Hayley Shepard got their first AA times and Merilyn Coughlin got her freest A time. Jahns and Johnson also got new sectional times.
This meet was the first prelims/finals meet for our Senior swimmers and they faced a majority of swimmers who were tapered and shaved and held their own. This gives our GaGa swimmers a real advantage for the meets in February and March.
---
GwinAq 10Us Take the Blocks at Woodie B
11/21 - Gwinnett Aquatics 10Us followed the lead of their older teammates and swam their first multi-day meet of the season at the Woodie B Invite this weekend at Dynamo. It was a great chance for a lot of our newer swimmers to do some new events and our best 10Us to race some tough competition. There were also a few older swimmers doing some events they didn't do last weekend.
Marlowe Misner, Isaac Saenz and Josh Fountain all won events while Hailey Dopson and Andrew Guo (at his first meet!), medaled. Mikayla Chapek, Bennett Culbertson, Mali Davis, Ruthie DeLong, David Duong, Kate and Lucas Johnson, Tanner Manson, Brielle Mitchell and Freddy Xu also scored.
Fountain also picked up his first AAA time of the season while Darnell Mitchell, got his first AA time. Rachel DeLong got her first (ever) BB time and Guo, Brielle Mitchell and Addison Shaffer their first B times. Lindsey Diehl picked up her first state cut of the season.
---
GaGa Swimmers Hit First Invite at IMX
11/14 - Gwinnett Aquatics swimmers swam their first multi-day meet of the season at the IMX Invite in Marietta this weekend. It was the first invitational of the season and also a chance for swimmers to complete their IMX events. Once the results are uploaded to the USA Swimming database (SWIMS) swimmers who have done all 5-6 events in the IMX category will have an IMX score you can see on your Deck Pass!
Alex Norcini was the lone event winner but Grant Deckers, Lauren Diehl, Drew Grier, Sarah Jahns, Hannah Claire Jowers and Ella Moulder all placed.
Charlie Fountain, Griffin Hammett, Sarah Jahns and Daniel Johnson all picked up his their AA times of the season and Haley Burke, Abby Culbertson, Danielle Mitchell, Hayley Shepard, Michael Thompson and Brad Wyzykowski all got their first A times. Meanwhile Nia Fraser, Ethan McKinsey, Devin Petmecky and Blake Wilson got their first BB times and Grant Haskins and Jillian Rovie their first B times. Dylan Yin picked up his first ever state cut!
Results | GwinAq Results
Standard Breakers

---
Swim-A-Thon Wraps Up, Lots of Improvement Evident
11/9 - The annual Swim-A-Thon wrapped up last night with the Prep swim and it was a very successful set of swims. Marlowe Misner broke the record for the 10U 800 and each team showed significant improvement over last year's swim. Gold swimmers averaged 20 seconds per 100 faster than last year while Prep was 11 and Sr and HSTG was 5. Now that our swimmers have completed the swimming portion of their Swim-A-Thon, let's make sure to wrap-up the fundraising portion as well. We currently have over $15,000 collected
Collect your pledges! There is a SAT folder in the Coaches box at the pool. Once you collected all your pledges, simply put your completed packet in that folder. If you have any on-line donations please make sure to make a note of that on the pledge sheets. We are looking to have all completed packets back by November 24
Thank your donors! Click here to use our Thank You note, which includes information about taxes or use the thank you email function on the SAT page.
2016 S-A-T Overview | Ga-Ga Gift Receipt | TU S-A-T Home Page
S-A-T Results
---
GaGa Wins Dual Meet with Tidal Waves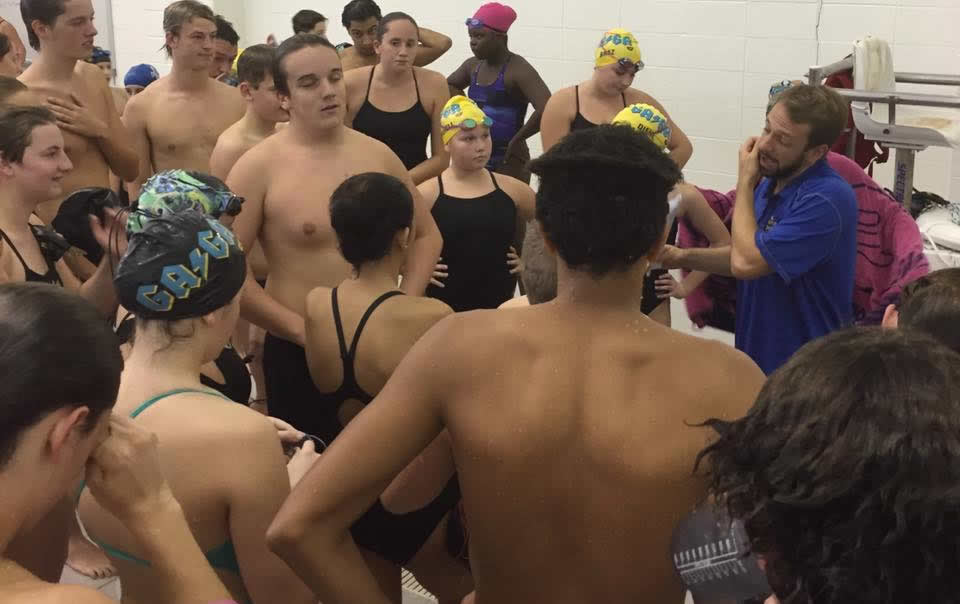 10/29 - Gwinnett Aquatics defeated Tidal Wave Swimming in a their sixth annual dual meet this weekend at GAC. The teams have traded victories each of the last 4 years with TWS taking the contest last year. GaGa was led by triple and quadruple event winners Brielle Mitchell, Marlowe Misner and Alex Norcini as well as 11 other event winners: Hanna Burke, Lindsey Diehl. David Duong, Drew Grier, Russell Hart, Caleb Hersey, Sarah Jahns, Tanner Manson, Danielle Mitchell, Isaac Saenz and Jaxon Young.
Additionally a number of swimmers picked up new standards. Duong got his first state cut of the season while Jahns and Haley Dopson got their first A times. Abby Culbertson, Sahil Khatri, Riley Spruiell, Zoe Wilson and Brad Wyzykowski got their first BBs and Adam Dockstader, Elena Kaiser and Lila Smith got their first B times. Great job swimmers!
Up next will be the first invitationals of the season. The older swimmers will attend the IMX meet in Marietta Nov12-13 while the younger swimmers will go to Woodie B at Dynamo Nov 19-20. Sign-ups are closed on-line so if you missed the deadline be sure to contact your coach right away.
Results | GwinAq Results
Standard Breakers
---