Georgia 2017 14 and Under
Long Course State Championships
hosted by Gwinnett Aquatics
Georgia Tech, July 20-23
The 2017 Age Group State Champs will be held Thursday July 20 - Sunday July 23 at Georgia Tech. Over 900 athletes from over 50 swim clubs are expected to attend this premier age group competition for our LSC. The meet will feature distance events Thursday afternoon, prelims/finals for 11-14 yr olds Friday - Sunday, and timed final events for 10U Friday-Sunday
---
GwinAq Attack on Twin Meets!

6/28 - Gwinnett Aquatics once again had two squads in competition this weekend but this time in two different states. 30 swimmers competed at the SYS Open in Florida while 40 more were in Marietta for the Hixon Invite. Between the two meets there was, like last year, some of the fastest mid-season swimming we have done.
Between the two meets we had over a dozen finalists, six new AAA swimmers and numerous new state qualifying swims. Andrew Guo made his first ever State time! At a very competitive meet in Sarasota we had more swimmers in finals including Juliana Carey (5), Grant Deckers, Lauren and Lindsey Diehl, Drew Grier, Alex Norcini (7), and Graham (swimmin') Simon. In Marietta Isaac Saenz was the high point swimmer.
Time Standard Achievers at the two meets were:
First AAA Times - Charlie Fountain, Griffin Hammett, Sarah Jahns, Daniel Johnson, Grant Deckers (1st ever!), Maggie Nguyen (1st ever!)
First AA Times - Ava Gawronski, Rachel Peden
First A Times - Haley Burke, Caitlyn Diehl, Grace Fleming, Nia Fraser, Ethan McKinsey, Emily Morgan
First B Times - Gryffin Moore, Brandon Shepard
First State Cuts - Coughlin, Bennett Culbertson, Caitlyn Diehl, Fraser, Ian O'hara
SYS Open Results | Hixon Results
GwinAq SYS Results | GwinAq Hixon Results
LC Standard Breakers | Travel Meet Photos

---
Team Splits for Open Water, Swim with Dad
6/11 - Gwinnett Aquatics had two different squads in competition this weekend. Saturday about 20 swimmers competed at the Death Valley Open Water swim in Clemson while another 40 were at the Swim With Dad Invite at Georgia Tech Sunday.
At Death Valley Josh Fountain swept all four races, a feat that's only been done by one other GaGa swimmer ever. Overall GaGa swimmers took 4 of the top 20 spots in the men's open 5k and Griffin Hammett, Charlie Fountain, Maggie Nguyen all had top 3 finishes in some of the shorter races while Grant Deckers and Graham Simmons each won a shorter race in the 12U division. Both Fountains, Hammett, Deckers, Jarod Disher, Wesley Carter, Sahil Khatri, Blake Wilson Haley Burke and Caitlyn Petmecky did all 4 races (for a total of 9.5k)! We also had a good group of first timers: Simmons, Carter, Nguyen, Blake and Zoe Wilson, Olivia Yeiser and Ella Moulder.
Meanwhile the group at Tech were taking great advantage of the extra opportunity to race long course. Bria Carter, Caitlyn, Lauren and Lindsey Diehl, Drew Grier, Ryan Haskins, Sarah Jahns, Hannah-Claire Jowers, Kaylee McLester, Marlowe Misner, Gavin Moore, Isaac Saenz and Dylan Yin all won events.
Open Water Results | Swim w/ Dad Meet Results
Open Water Pics | GwinAq Swim w/ Dad Meet Results
---
Great Racing and Standard Breaking at Dixie Classic
Diehl, Carter break team records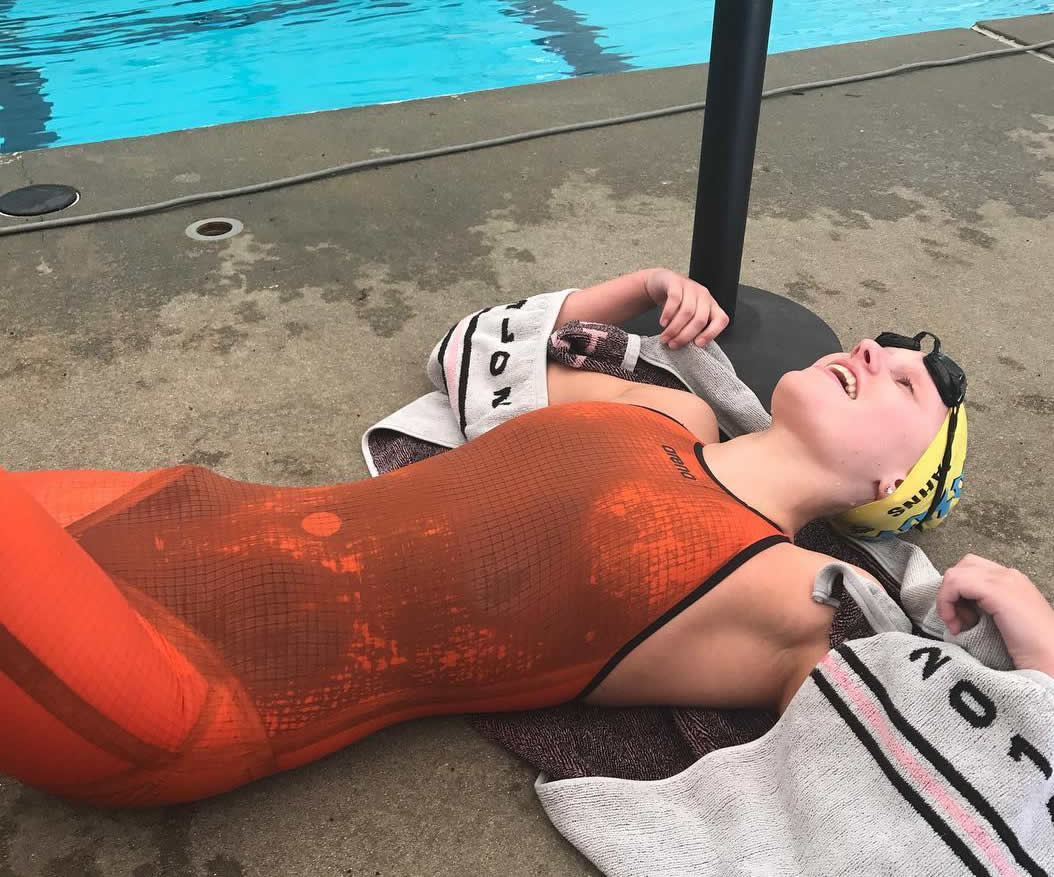 6/5 - About half the team competed in the Dixie Classic meet this weekend at Dynamo. It was the first prelims/finals meet of the season so there were some pretty good time drops and quite a few new standards made. We also did some great racing with six different swimmers winning events and another nine placing top three! Juliana Carey, Wesley Carter, Lauren Diehl, Josh Fountain, Sarah Jahns (pictured post-swim) and Alex Norcini all won events. Carter and Diehl also each broke a club record in the 50 free and 100 fly respectively.
Carter also picked up the club's first AAAA of the season while Carey got her first AAA. A whopping ten swimmer got their first AA's: Hanna Burke, Grant Deckers, Lindsey Diehl, Charlie Fountain, Hannah Claire Jowers, Marlowe Misner, Danielle and Darnell Mitchell, Caitlyn Petmecky and Graham (swimmin') Simmon. Marilyn Coughlin, Ava Gawronski, Ryan Haskins, Nolan Patterson, and Sijia She all got their first A times.
It was also a good meet for new State cuts. Burke, Lauren and Lindsey Diehl, Ryan Haskins, Daniel Johnson, Patterson and Simmon all got their first cuts of the season.
Meanwhile Anna Jahns was representing GaGa with the Georgia Open Water Zone Team at the Open Water Champs in NC.. She took 4th in the Open race, 2nd in team pursuit and was Georgia's top scorer.
---
Long Course Action Continues at Spring Splash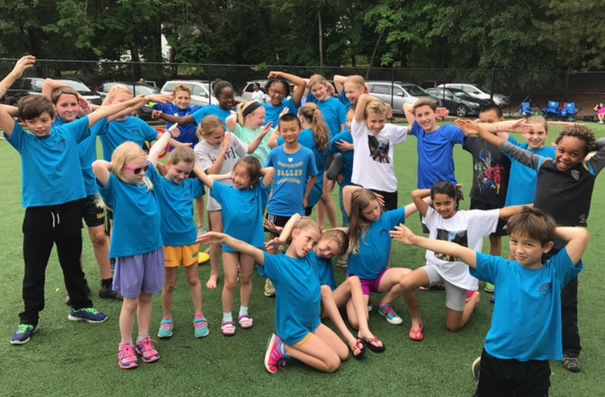 5/22/17 - Gwinnett Aquatics continued the long course season this weekend at the Spring Splash at Dynamo. This was the first meet for many younger swimmers and a one-day tune-up before the others head to the first prelims-finals meet in two weeks. Just like at the kickoff there were lots of swimmers getting to see how much they've improved since last summer with some big drops.
Lauren Diehl, Griffin Hammett, Daniel Johnson and Desymber Richie all got their first AA times; Kaylee McLester, Marlowe Misner, and Darnell Mitchell their first A's, Sahil Khatri his first BB and Addie Shaffer and Freddy Xu their first B times. And a whole bunch of swimmers did some events they had never done long course before!
Next up is the Dixie Classic for swimmers with qualifying times followed by Swim With Dad for everyone.
---
Long Course Begins!
4/30/17 - Gwinnett Aquatics started the long course season this weekend at the LC Kickoff at Ga Tech. The coaches thought we might get off to a quick start because the work at practice has been so good and they were right. The first meet of every year is always a lot of fun with lots of swimmers getting to see how much they've improved since last summer with some big drops. This year the percentage of best times was even higher than usual. 22 swimmers already have achieved A times, with 9 getting at least AAs and Wes Carter and Issac Saenz already got their All-Star (AAA) times. Ten swimmers had a top three finish with Saenz and Sarah Jahns getting wins. Ruth DeLong got her first B time.
In addition 20 swimmers made state cuts including Hannah and Rachel DeLong who got their first State cut.
---