Rosenburg Spring Invite May 16-17 - CANCELLED
THIS MEET HAS BEEN CANCELLED. A filter broke and cannot be repaired in time for the meet. Both Saturday and Sunday sessions are cancelled. .
5/4 - The long course season truly kicks off with Jessica Rosenburg Spring Invite this weekend May 16-17 at Bransby Y. The meet is small this year and so will run in a single afternoon session each day. Warm-up is at 12:30 both days (note change). This is a super fun meet where the kids can win a chance to do some fun post-swim activities like a moon bounce, paddle boats and wall climb.
---
Long Course Season Kicks Off at Gold Invite
5/3 - 45 GaGa swimmers kicked off the long course season today at the Gold Citizen Kane Invite in Cumming. The first meet of every year is always a lot of fun with lots of swimmers getting to see how much they've improved since last summer. The afternoon session almost went 100% best times with lots of really big drops. Even some of the teens in the morning got to get some PRs, which doesn't happen as often in season for older swimmers. Check out the results using the links below. if any parents got some pics we'd love a good one to go on the newsletter.
Also this weekend we had our annual awards banquet. And check out the slideshow, so nice you had to see it twice!
---
Gwinnett Aquatics Third at Northeast Divisionals
Diehl, Jahns, Rees break four team records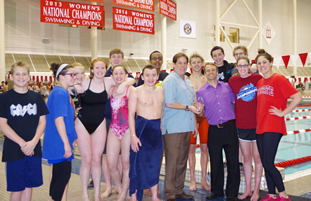 3/29 - Gwinnett Aquatics finished 3rd at this weekend's Divisional Champs in Athens scoring over 800 more points than last year with 62 swimmers contributing with individual scores. Eight swimmers, Lauren Diehl, Lindsey Diehl, Hailey Dopson, Colin Houck, Anna Jahns, Sarah Jahns, Jacob Rees, Isaac Saenz, combined for 19 event victories while 23 others had a top-8 finish. Lauren Diehl, Anna Jahns and Jacob Rees combined to break four team records.
The team also, once again, showed great team spirit. Thanx to all the parents who helped organize the posters, shirts, theme-ware and the catered meals too! It really helped make this a special weekend for the swimmers. Standard breakers for the meet were:
First AAAA (Silver Cap) Times -

Lauren Diehl

First AAA (All-Star) Times -Matthew Albers, Colin Houck, Alex Norcini, Brad Wyzykowski
First AA Times - Charlie Fountain, Bailee Hammett, Samantha Lewis, Rachel Peden, Hayley Shepard, Riley Spruiell
First A Times -

Alice Koschella, Jacy MacConvery, Jen Narde, Devin Petmecky, Dean Yusuf

First BB Times - Fred Mitchell, Desymber Richie
First B Times - Lillie Clark, Zack Culbertson, Sam Huggins, Sahil Khatri, Kiera Swinkola
First Sectional Cuts - Matthew Albers, Alex Norcini, Brad Wyzykowski
First State Cuts - Bailee Hammett, Rachel Peden, Hayley Shepard
Results | GaGa Results
Standard Breakers | Pics!
---