Gwinnett Aquatics Kicks Off 2015-16 Season With Pentathlon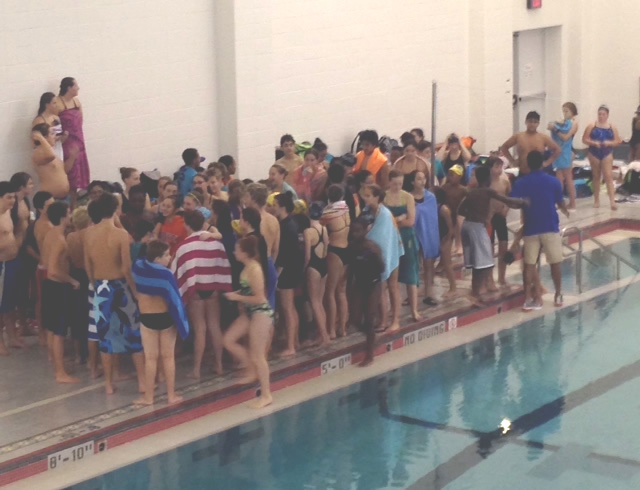 9/26 - After a fantastic Big brother/sister practice in the morning, Gwinnett Aquatics kicked off the 2014-15 season with a Pentathlon meet at GAC today. It was a short, fast meet with a lot of swimmers showing off how much they've improved since the last time we swam short course last March. Swimmers were scored based on the cumulative total of their swims in 5 events. Age group winners were: Hailey Dopson, Lindsey Diehl, Bryce Dopson, Lauren Diehl, Ian O'Hara, Juliana Carey, Fred Mitchell, Bailee Hammett and Alex Norcini.
Almost 50 swimmer achieved their first time standards swimmers including some new swimmers: Maggie and Lennox Nguyen (A and B ties respectively), Alex Lomishvilli, Catelina Maced-Giang Caitlyn Petmecky and Chayse Smith (all B times). See all the standard breakers using the link below.

Meet Results | Scores
GwinAq Individual Results | Standard Breakers

---
Swim-A-Thon Pledge Drive Kicks Off, will Run Through November 12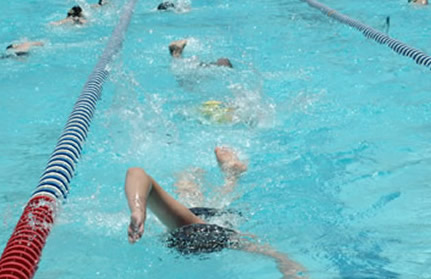 9/26 - The 2015 Swim-A-Thon kicked off today. Between now and November 10 swimmers will be collecting pledges and donations to benefit Gwinnett Aquatics and the USA Swimming Foundation. Then on November 10-12 they will see how many laps they can swim in 2 hours (limit=200). Please consider donating in order to help us reach our goal of $16,000 for pool improvements, senior team travel and our pool building campaign.

Swim-A-Thon Info
Swim-A-Thon Online Donation Page

---
LC Season Wraps Up at Sr State, GA Open
7/26 - Long course season came to a close this weekend with two final meets, the Sr State Champs and the GA Open. At Sr State Anna Jahns, Josh Fountain and Matthew Albers all scored. Fountain picked up his Scholastic All-American and Futures cuts while placing second in the mile while Jahns got her first AAAA of the season with a third place finish in the 400. Abby Culbertson and Brad Wyzykowski got their first AAs of the season.
At the GA Invite a much smaller than anticipated group competed in a short prelims-finals format at Georgia Tech. Jacy MacConvery picked up his first A times of the season and Ramaya Pittman got her first B times.
Sr State Meet Results | GwinAq Results
GA Open Meet Results | GwinAq Results
Standard Breakers
All-time Top Ten | 2015 Fast 5 | Summer 2015 Attendance Award Winners

---
GwinAq Age Groupers Finish 10th at 14U State Champs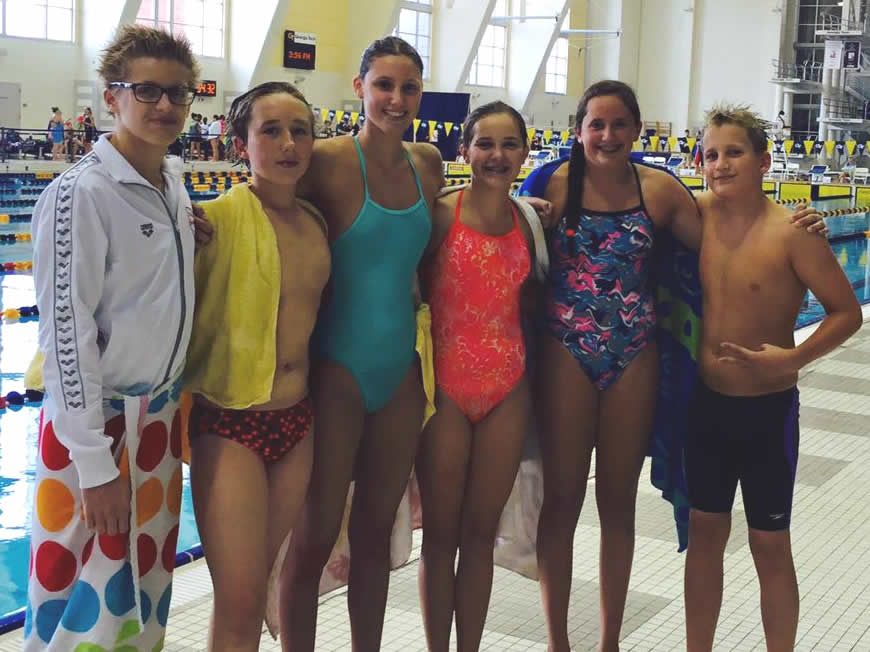 7/20 - Gwinnett Aquatics 14 and Under swimmers took to the pool at Georgia Tech this weekend for the 14U State Champs. After a great year of progress, it was one of our best showings to date at that meet with the team going into the final day in third place in the medium sized team division. But we did not have enough scoring swims on day 4 to hold on. You can be sure the coaching staff is already planning how to improve our training next season so we can hold that spot.
Nonetheless there was plenty to be proud of. It was our largest state team in at least the last six years. Lauren Diehl and Juliana Carey broke team records in the 50 and 100 fly respectively. Bryce Dopson led all scorers for the team and got his first ever AAAA (Silver Cap). Ryan Haskins got his first A time of the season. Other individual scorers included Griffin Hammett, Lindsey Diehl, Colin Houck, Sarah Jahns and Samantha Lewis.
Meet Results | GwinAq Results
Standard Breakers

---
Georgia 14U State Champs
7/19 - The Georgia Swimming 14 & Under State Champs wrapped up tonight at Georgia Tech, hosted by Gwinnett Aquatics. Nine new state records and one national record were set during the meet. The meet web page includes meet info, results
, scores and more, including more info about those record breaking swims. .
Gwinnett Aquatics would like to thank all the officials and volunteers for all their hard work in putting on such a fine event. And the swimmers and parents were great too!
Click on the link below to access all the updated info on the meet.
---
Big Weekend for Senior Swimming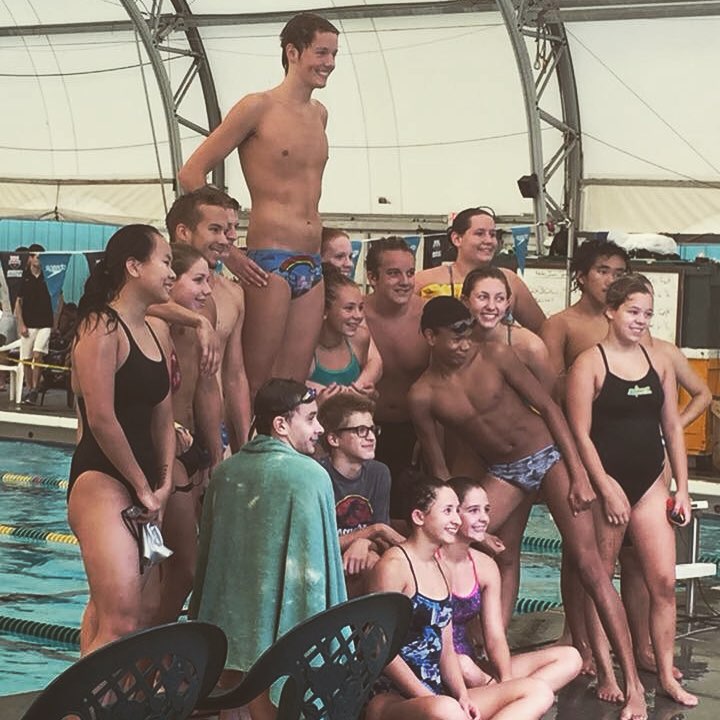 7/12 - Gwinnett Aquatics 13 and Over swimmers took over the meet scene this weekend. At Senior sectionals our largest summer sectional team in at least four years swam with the likes of Ryan Lochte and Connor Jaeger. The 18U boys went nearly 100% best times. Jacob Rees and Josh Fountain both picked up their first AAAAs (silver cap) of the season while Matthew Albers and Alex Norcini got their first AAA (All-Star) times.
Meanwhile at Senior circuit a strong group of 13 and over swimmers competed, most of them tuning up for the big end of season meets in two weeks. Devin Petmecky picked up his first ever A times.
Sr Sectional Results | GwinAq Results
Sr Circuit Results | GwinAq Results

---
GwinAq Competitive Tour '15 Expands to Two States
6/30 - Gwinnett Aquatics again had two different squads in competition this weekend, this time in two states. 32 swimmers competed in Tallahassee while another 30 were in Cumming.
At Tallahassee our small travel squad competed very well against some tough Florida teams, with 27 of the 32 scoring and Juliana Carey, Lauren Diehl, Josh Fountain, Anna Jahns and Jacob Rees all winning events.
At the Gold Invite in Cumming Bryce Dopson led the way winning every event he swam save one. Lindsey Diehl and Samantha Lewis also won events while the 10U swimmers went on a state-cut rampage with FIVE swimmers making their first cuts. Congrats to Hanna Burke, Hailey Dopson, Danny Pitts, Desymber Richie, Sydney Spruiell.
Between the two meets we also had nineteen swimmers pick up new standard levels:
AAA (All-Star) - Juliana Carey, Lindsey Diehl, Griffin Hammett, Sarah Jahns, Jacob Rees
AA - Charlie Fountain, Ava Gawronski, Daniel Johnson, Samantha Lewis, Ciara Mitchell, Bryce Peden, Rachel Peden
A - Abby Culbertson, Dean Yusuf
BB - Kevin Kooh, Aaliah Mobley, Danny Pitts
B - Emily Koschella, Charlotte Lane
ATAC Results | GwinAq Results
GOLD Results | GwinAq Results
Standard Breakers

---