Senior Squad Competes at Senior State Champs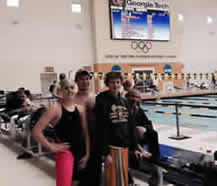 12/9 - After graduating so many last spring, Gwinnett Aquatics took its smallest squad ever to Senior State this weekend. Nonetheless we had some impressive results. Anna Jahns scored in five events, including silver in the 1650 (with a new team record of 16:43), and a 4th in the 500. This is even more impressive that she did it during a week of heavy training while most of her competitiors were rested and shaved. Ditto for Bradford Wyzykowski, Bryce Peden and Steven Lewis. Brad and Bryce combined for 4 personal bests and thier first AAs of the year while Steven had all season bests and his first A times.
---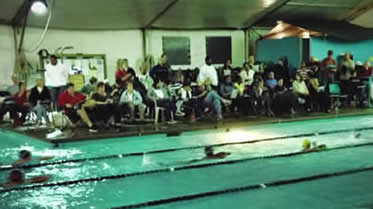 Swimmers Rock the Swim-a-Thon
11/23 - Over 90 swimmers did their Swim-a-Thon this past week. There were great improvements over last year's swim in all groups. Gold team had more swimmers finish 200 lengths than ever before. And Anna Jahns and Josh Fountain broke team records in the 2400 timed swim. Hopefully we raised a fair amount of money too! Way to go team.
---
Jahns Races at Grand Prix, 10Us at Dynamo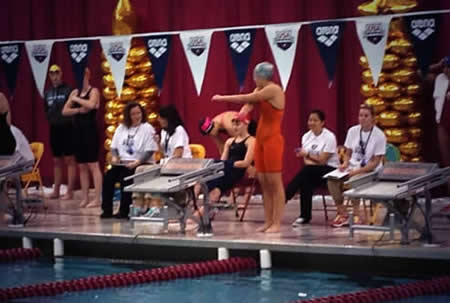 11/17 - Anna Jahns took her show on the road this weekend, travelling to Minneapolis, MN to compete in the Arena Grand Prix meet. She had a good showing against a very fast November field that included a number of swims that ranked in the top 10 in history. Anna was in the top 30 in 400 IM (4:31), 200 back (2:02) and the 1650 (17:17) and was 12th in the 500 free (4:53). The mile, 500 free and 200 back were her first AAAAs of the season.
Meanwhile the Gwinnett Aquatics 10 and Unders were competing at the Dynamo Turkey Invite. The younger swimmers picked up a ton of new best times and Russell Hart got his first B time.
Grand Pix Results
Dynamo Turkey Invite Results | GwinAq Results

---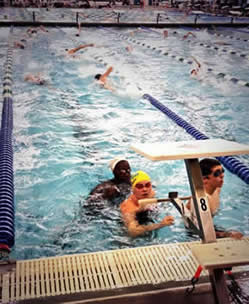 Gwinnett Aquatics is IMX Strong
11/11 - Gwinnett Aquatics had some strong swims at the first Invitational of the year, the IMX Invite at Mtn View. Swimmers did a lot of new events this weekend. With the 12Us doing lots of 100s and 13 and overs doing 200s, there were a ton of first time swims. George Bujoreanu led the way, winning six events. Ava Gawronski, Ryan Haskins and Josh Fountain also won events. Bryce Peden and Keegan Walsh picked up their first state cuts of the season. Bujoreanu and Gawronski picked up their first ever AA times, Peden, Walsh and Charlie Fountain their first A times of the season. Michael Pacocha got his first BB and Sophia Bujoreanu, Regina Wright, and Hanna Burke earned their first B times.
Swimmers who rounded out their list of IMX events (100s of all strokes, 200 IM and 200 or 500 free for 12Us and 200s stroke, 400 IM and 500 free for 13 and Over) will have IMX scores on the USAS website once the results are submitted. Check you DeckPass account (which everyone should have set up by now on usaswimming.org) in a week or so to see how high you scored!
Results
GwinAq Results
Standard Breakers
---
ABSC Nips GwinAq at UGA
10/20 - ABSC beat Gwinnett Aquatics 1125-752 today in a dual meet at UGA's Garielson natatorium. As in the previous meet the girls meet was very close while the ABSC boys won by a wide margin. Despite losing GwinAq won more relays than in the previous two years at ABSC. Individually Lindsay Diehl, Julianna Carey, Anna Jahns, Sarah Jahns, Ian O'Hara, George Bujoreanu, Lauren Diehl, Ava Gawronski, Griffin Hammet all won events. Josh Fountain and Griffine Hammett earned their first AA's of the season, Brooke Braziunas and Samantha Lewis their first A times, Kyle Yang his first BB and Sydney Nelson her first B time.
---
Tidal Wave Wins Inaugural Metro League Dual Meet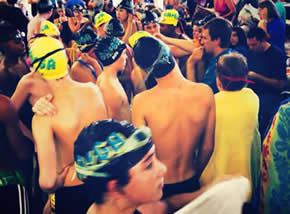 9/29 - Tidal Wave Swimming won the first dual meet of the Metro League yesterday at Cobb Aquatic, defeating Gwinnett Aquatics 921-794. Gwinnett Aquatics won the girls' scoring but could not make up the difference in the boys. The league (whose official name is yet to be decided) also includes ABSC and DAQ.
GwinAq was led by Anna Jahns and Lindsay Diehl with four wins each. Other event winners were George Bujoreanu, Lauren Diehl, Griffin Hammett, Josh Fountain, Ava Gawronski, Ryan Haskins, Sarah Jahns, Ciara Mitchell, Ian O"Hara and Michael Thompson. Lauren Diehl picked up the first AAA (All-Star) time of the season, while new swimmers Haley Hensley and Mandy Wong earned their first BB times and Sydney Falk, Jen Narde and Joe Lucier their first Bs.
---