Senior State Champs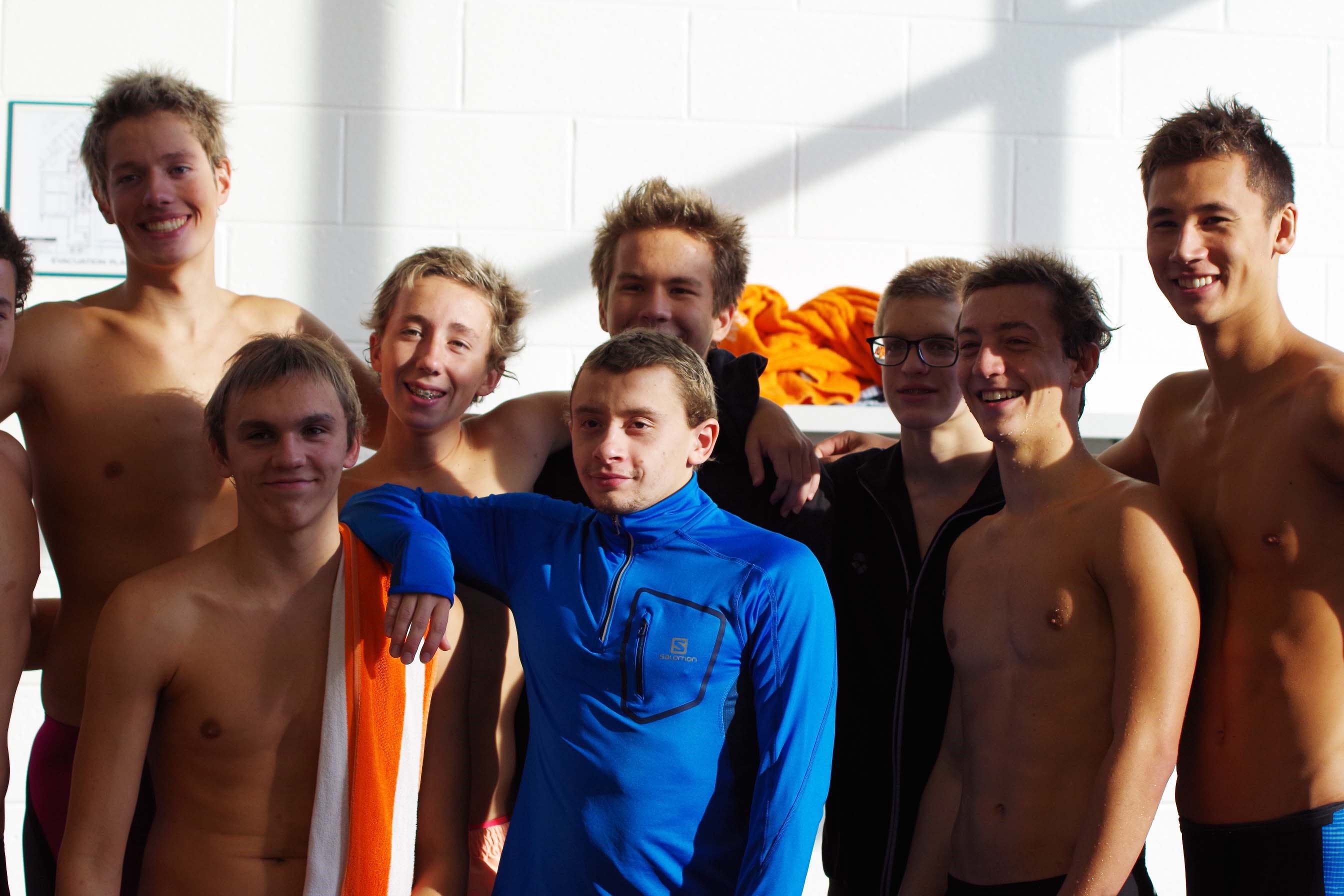 7/25 - Much of the Gwinnett Aquatics senior group finished out the season this weekend in Cumming at the Senior State Champs. With some swimmers coming here after their taper meet at Dynamo two weeks ago and three swimmers still headed to Zones and Futures the meet was the focus meet for a smaller group of swimmers than usual.
Despite a more challenging venue than we usually have for this meet, those swimmers definitely took advantage. Jacob Rees broke an 18 yr-old team record, going 53.03 in the 100 free. Daniel Johnson picked up his first ever Sectional cut (1500) and Matthew Albers and Julianna Carey picked up their first AAA times of the season.
We also had some of the best relay swims in a while, including a couple of records at the Sr and Age Group State meets. the Sr boys broke the 800 free relay record (scoring 4th) and the 13-14 girls broke the 400 free relay record. We will be adding the relay records to our records list soon but i have listed them here as well as some relays form this summer that were close.
Sr State Results | GwinAq Results
Standard Breakers | Top Relay Report
---
Gwinnett Aquatics 12th at 14U State Champs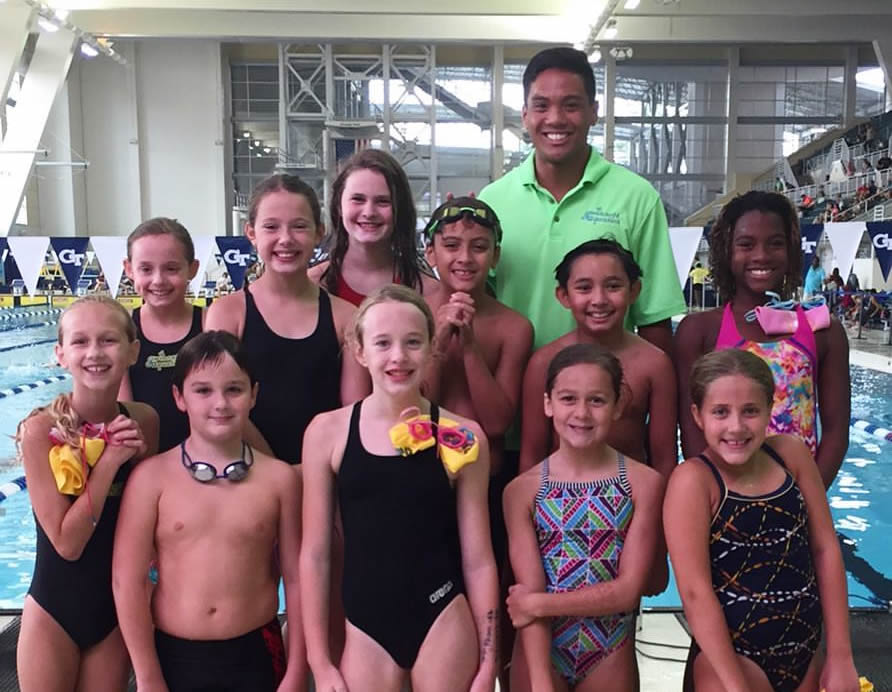 7/18 - Gwinnett Aquatics finished 12th at this weekend's 14U state champs at Ga Tech. We were just 16 points out of 10th (out of 450!) and that score was good enough to put us third n the medium-sized teams division. It was a good showing after a strong year of work but possibly could have been higher if we had more consistent practice attendance this summer.
Isaac Saenz led all scorers, making the podium four times and scoring in an additional two events. Griffin Hammett, Samantha Lewis, Marlowe Misner, Lauren Diehl and Bryce Dopson also scored. Hammett picked up his first AAAA (Silver cap) of the season and he Lauren Diehl and Marlowe Misner got new team records in the 100 fly, 100 fly and 50 fly respectively.
Nia Fraser and Ava Gawronski picked up their first AA times of the season (first ever for Fraser) and Hannah Claire Jowers got her first ever A time.
And of course what can i say about our parent (and swimmer) volunteers. There were so many families who gave up so much of their time to make this meet a success: in the hospitality room, as officials (way to go Judy!), or on deck as times, runners, or a variety of other jobs. We have earned a great reputation as an organization that does things right! And deservedly so.
AG State Results | GwinAq Results

---
Registration Now Open for 2016-17 Swim Team, Lessons
7/11 - Registration is now open to the public for our 2016-17 Swim Team as well as our Fall swim lessons. Those registering for 2016-17 will be able to start during our pre-season mini-camp that starts August 15. the regular season will start September 12. Lessons start August 15 and run through December.
Use the links below to access the site for the program you wish to register. We are using a new on-line registration system through TeamUnify so be sure to use these new links.
---
Georgia Age Group State Champs a Big Success
7/18 - The 2016 All American Swim 14U GA State Champs is now in the books. The meet featured over a dozen state records and one new National record. More info is available on the meet site. Thanks to all our volunteers for helping us run another successful champs!
.
---
Championship Meets Kick Off at Dynamo End of Season Meet
7/11 - The big last meets of the season kicked off this weekend at Dynamo at the End of Season Invite. Over 50 swimmers took to their last long course meet with mostly great success as reflected by the number of wins and the new standards achieved. Marilyn Coughlin, Charlie Fountain, Josh Fountain, Samantha Lewis, Darnell Mitchell and Alex Norcini all won events.
Abby Culbertson, David Duong, Charlie Fountain, Jacy MacConvery, and Darnell Mitchell picked up their first sate cuts. Maggie Nguyen got her first AA, while MacConvery, Kaylee McLester and Devin Petmecky got their first A times and Duong, Taylor Bowling and Brooke Braziunas got their first BB times.
DYNA EOS Results
GwinAq Results
Standard Breakers
---
GwinAq Attack on the Eastern Seaboard!
Records and Standards fall all over the South.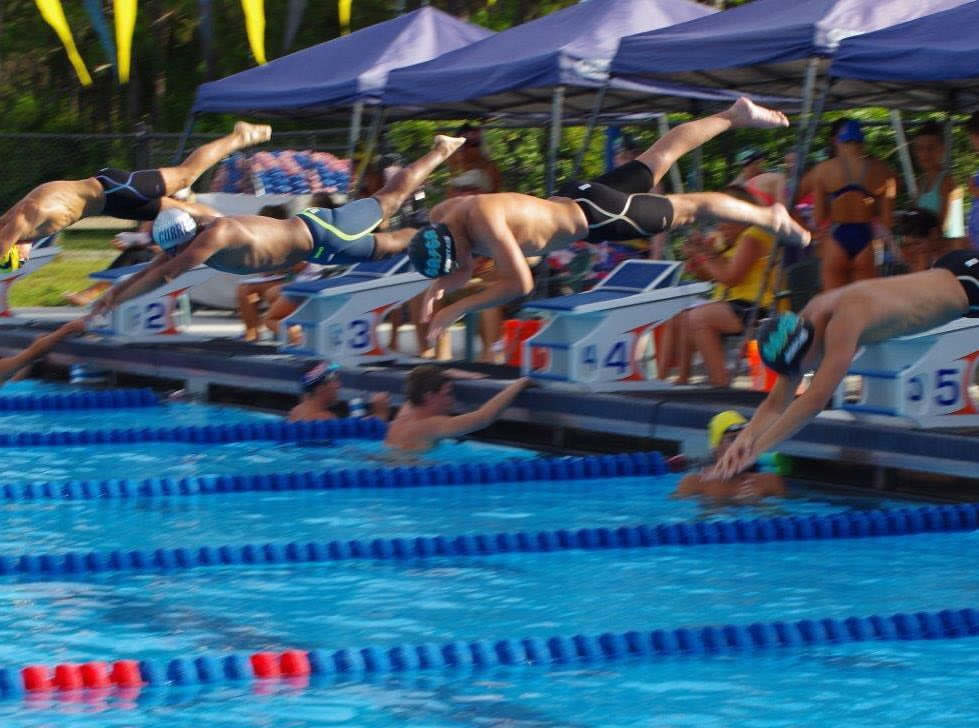 6/28 - Gwinnett Aquatics once again had two squads in competition this weekend but this time in two states. 22 swimmers took their act to Florida for the SYS Open while 50 more were in Cumming for the Henry the 8th Invite. Between the two meets there was a lot of fast swimming going on. In fact it was some of the fastest mid-season swimming we have done in recent memory.
Between the two meets we had a new team record, five new state qualifiers and 18 swimmers pick up first time standards. At a very competitive meet in Sarasota we had more swimmers in finals then ever before while in Cumming Isaac Saenz, Marlowe Misner, Griffin Hammett and Jacob Rees all won events. Hammett broke his own team record in the the 10 fly while Saenz picked up his first ever AAAA (Silver Cap!)
Time Standard Achievers at the two meets were:
First AAAA (Silver Cap) Times -

Saenz

First AAA Times - Lauren Diehl, Josh Fountain, Drew Grier, Sarah Jahns
First AA Times -

Marilyn Coughlin, Abby Culbertson,

Charlie Fountain, Daniel Johnson
First A Times - Lindsey Diehl, Nia Fraser, Jen Narde, Maggie Nguyen, Riley Spruiell, Ella Smith
First BB Times - Hanna Burke, Sahil Khatri
First B Times - Ruthie DeLong
First State Cuts - Coughlin, Bennett Culbertson, Caitlyn Diehl, Fraser, Ian O'hara
SYS Open Results | Henry 8 Results
GwinAq SYS Results | GwinAq Henry 8 Results

---
Team Splits for Open Water, Swim with Dad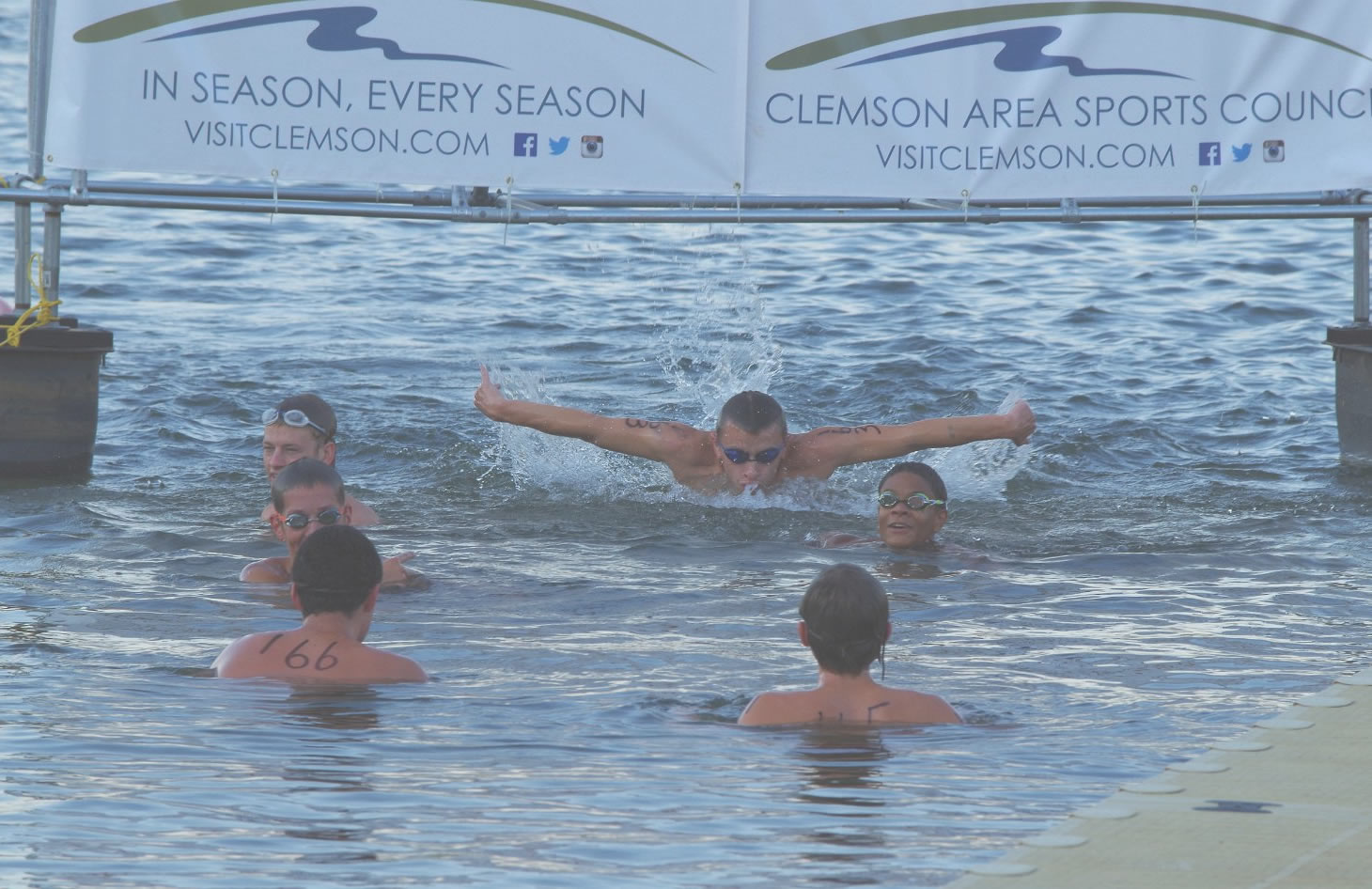 6/12 - Gwinnett Aquatics had two different squads in competition this weekend. Saturday about 20 swimmers competed at the Death Valley Open Water swim in Clemson while another 60 were at the Swim With Dad Invite at Georgia Tech.
At Death Valley Josh Fountain won 3 of the four races and took 2nd in his age group in the feature race, the 5k (3rd overall). His toughest competition in 2 of those was his brother Charlie who took 2nd. Those two, along with Jarod Disher, Daniel Johnson, and Jacy MacConvery did all 4 races for a total of 9.5k). We also had a good group of first timers: Hanna Burke, Bennet Culbertson, Caitlin Petmecky and Isaac Saenz.
Meanwhile the group at Tech were taking great advantage of the extra opportunity to race long course. Marlowe Misner and Jacob Rees both won events. bryce Dopson picked up his first AA time of the season while Darnell Mitchell and Brad Wyzykowski got their first A's. Bennet Clubertson, Grace Fleming and Riley Spruiell got their first BBs while Abby Bold, Taylor Bowling, Sarah Burton, Elena Kaiser, Emily Morgan all got their first B times.
Open Water Results | Swim w/ Dad Meet Results
Open Water Pics | GwinAq Swim w/ Dad Meet Results

---
Standards Fall at Dixie Classic
Misner, Hammett break team records
6/6 - Nearly 40 swimmers competed in the Dixie Classic meet this weekend at Dynamo. It was the first prelims/finals meet of the season so there some pretty good time drops and quite a few new standards made. Marlowe Misner led the way winning all 10 events that she swam. Griffin Hammett, Isaac Saenz and Alex Zhong also won events. Misner and Hammett also each broke a club record in the 50 back and 100 fly repsectively..
Jacob Rees picked up the first AAAA of the season in 50 free which was also a Scholastic All-American cut. Misner and Samantha Lewis got their first AAA of the season while Juliana Carey, Lauren Diehl and Josh Fountain got their first AAs. Caitlin Petmecky got her first A time and Hannah Claire Jowers and Jen Narde got their first BB times.
It was also a good meet for new State cuts, Hannah Claire got her very first one while Grant Deckers, Lauren Diehl, Lindsey Diehl and Hayley Shepard got their first cuts of the season.
Meanwhile Sarah Jahns was competing with the Georgia Open Water Zone Team at the Open Water Champs in Fort Myers, FL. Sarah took 9th in the 15-16 race against a very competitive field. The course had been shortened to 2.5k due to high water temps.

---