GwinAq Seniors 12th at ESSZ Senior Sectional Champs
3/13/17 - Gwinnett Aquatics' Senior swimmers had one of their best meets ever at the Senior Sectional Champs this weekend in Greensboro. The seven swimmers combined for 5 team records, had more swimmers medal, score and swim at night than ever before and managed a 12th place finish at a pretty competitive meet.

Alex Norcini and Josh Fountain both medaled in two events, picking up their first AAAAs, Winter Junior National Cuts and Scholastic All-American cuts. Norcini also broke three team records in 200 breast and both IMs. They combined with Drew Grier and Griffin Hammett to break the team record in the 400 Medley relay and Hammett and Daniel Johnson in the 800 free relay.
Sarah Jahns and Daniel Johnson also scored in two events, with Jahns picking up a medal for 5th in the 1650. Johnson and Hammett picked up their first AAA times of the season. Juliana Carey added some AAAs and had a night swim in the 200 back picking up 18th.
It was a great start to the last short course meets for this particular senior group. Next up we get to see the whole group (and team!) in action at Divisionals.
Results | GwinAq Results
Standard Breakers
---
GaGa Third in Medium Team Division at 14U State Champs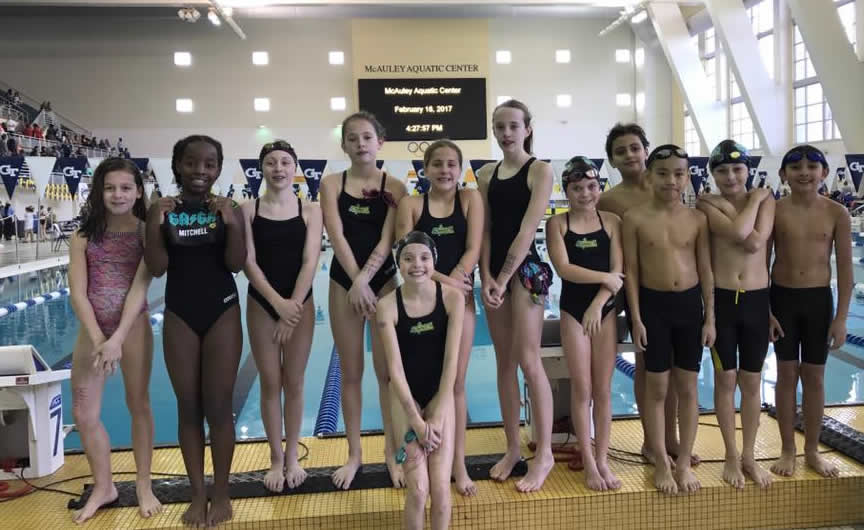 2/21/17 - Gwinnett Aquatics' Age Group state team had one of their best meets ever at the 14U Champs this weekend at Ga Tech. Grant Deckers, Marlowe Misner and Isaac Saenz led our largest group ever with 27 scoring swims between them including 9 top-3 finishes. Lindsey Diehl and Darnell Mitchell also scored and our relays all scored, breaking seven team records in the process. With all those scoring swims, GwinAq moved up five places from last year for our highest finish at eighth overall, third in the medium sized teams division.
Misner broke three team records and Saenz one while Misner also picked up her first AAAA time. Additionally Wesley Carter and Darnell Mitchell got their first AAA times, and Deckers, Diehl and Sophie Rees got their first AA times.
Up next we will take eight Senior swimmers to Senior Sectionals and then the ENTIRE team will finish out the season at Divisional Champs March 24-26 at UGA.
Results | Scores | GwinAq Results
Standard Breakers
---
Over 150 New State Cuts at GA Winter Qualifier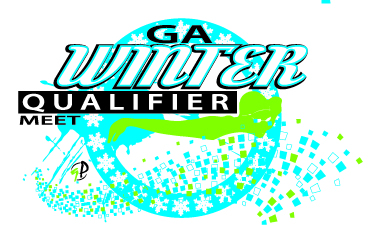 2/13/17 - The Gwinnett Aquatics GA Winter Qualifier was this weekend at Greater Atlanta Christian school in Norcross. Nearly 500 swimmers competed with over 150 new state cuts achieved. The meet featured all events for age groupers, single year age groups for awards and special tattoos for new state champs qualifiers.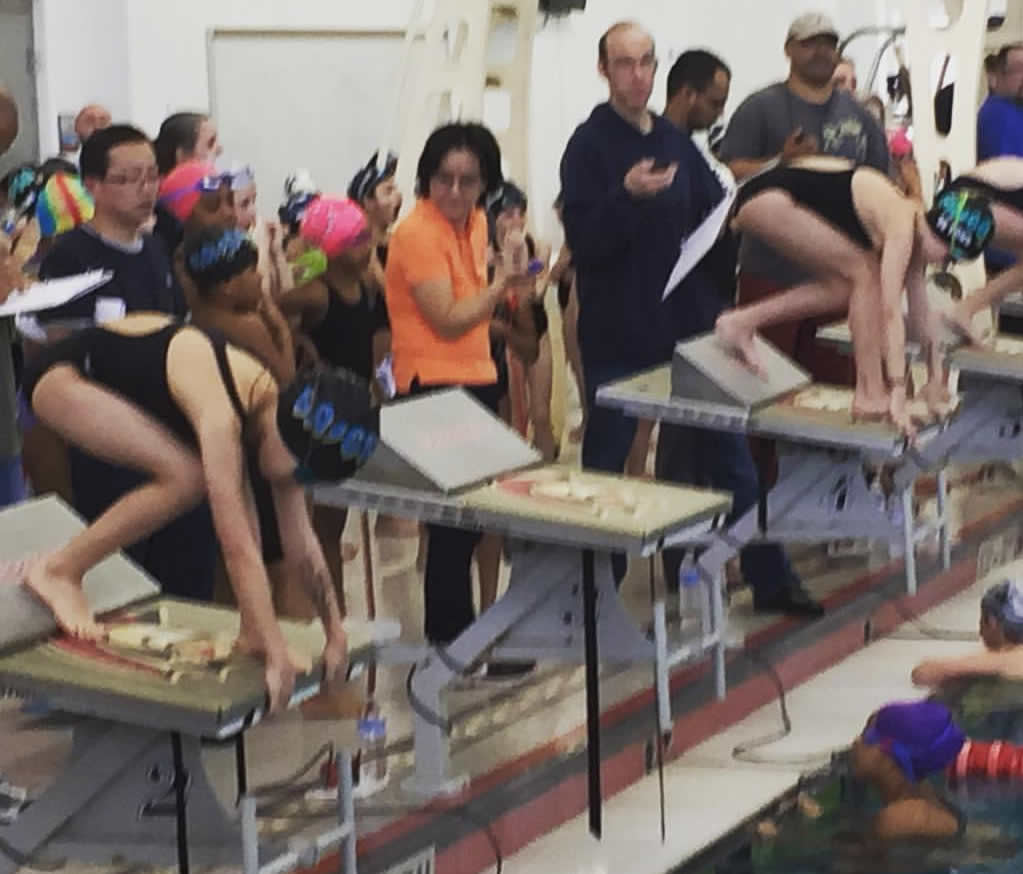 The GaGa swimmers made the most of the opportunity with Marlowe Misner breaking the team record in the 10U Girls 100 IM and a whopping eight swimmers getting their first State Qualifying times and another dozen adding new cuts. The eight new state qualifiers were Henry Breiding, Hanna Burke, Nia Fraser, Russell Hart, Victor Jemison, Nolan Patterson, Graham Simmon, and Kylie West. Jemison and Daniel Johnson got new Sectional cuts as well.
In addition Grace Fleming got her first ever A time and Sijiia She her first BB and Owen Heimel his first B time. Up next we will take our largest team ever to Age Group State Champs and Senior Sectionals and then the ENTIRE team will finish out the season at Divisional Champs March 24-26 at UGA.
This weekend also marked one of the best meets we have hosted. The energy level was great and the team made some money as well. Thank you to all our parent volunteers for doing such a great job!
GwinAq Results | Standard Breakers
---
GaGa Seniors Roll at High School State Champs
2/6 - While it was a quiet weekend for most of our swimmers, our Senior swimmers were tearing up the lanes at Georgia Tech at the Georgia High School State Champs. 21 swimmers qualified for the meets (large school and small schools run two separate meets). Alex Norcini, Drew Grier and Juliana Carey all made finals while Josh Fountain and Griffin Hammett made Consols. Carey, Fountain, Grier and Norcini all picked up their first Futures cuts of the year (1st ever for Norcini and Grier) and Abby Culbertson got her first AA of the year. Congrats to all, especially the members of the Brookwood Boys team who won the meet.
---
GaGa Age Groupers Race at Fun Meet, Srs at HS County Champs
1/22 - Gwinnett Aquatics swimmers did a little racing at our home pool yesterday at the fun meet at Quinn Ridge. It was a nice quick competition and after a good month of training there were lots of new best times. Anthony Benitez, Owen Heimel and Rielle Mitchell had 100% best times.
Meanwhile most of the Senior and High School Group swimmers were competing in the Gwinnett County Champs with great success. All 28 swimmers had a top 30 swim, most in the top 20. Eleven swimmers competed in 16 events in the championship finals, our best ever. Drew Grier and Juliana Carey medaled. Haley Burke, Marilyn Coughlin, Caitlyn Petmecky and Brad Wyzykowski got their first AA times and Austin Bynum, Sahil Khatri and Devin Petmecky got their first A times.
GwinAq Results | Standard Breakers
---
Gwinnett Aquatics Kicks Off 2017 at Eastern Classic, Coaches Invite

1/18/16 - Gwinnett Aquatics started the new year with squads at two different meets: the Eastern Classic at Dynamo and the Coaches Invite at Mountain View. At Eastern Classic Marlow Misner led all scorers winning seven events while Hailey Dopson, Sarah Jahns, Daniel Johnson, Alex Norcini and Isaac Saenz all had top-10 swims and 15 others contributed individual scoring swims. Saenz recorded a new team record and the first AAAA time for the team this year in the 100 fly while Juliana Carey picked up her first AAA of the season. Ava Gawronski and Maggie Nguyen got their first AAs, Condi Britton, Grant Deckers and Kaylee McLester got their first A times.
Meanwhile at the Coaches Invite Grace Fleming and Ella Moulder got their first State cuts while Kylie West got her first ever BB times.
Eastern Classic Results | GwinAq Results
Coaches Invite Results | GwinAq Results
Standard Breakers
---