Gwinnett Aquatics Takes Third at Divisional Champs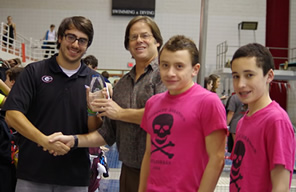 Jahns, Fountain, Hammett break seven team records
3/31/14 - Despite a much smaller number of high seeds going in, Gwinnett Aquatics defended its third place finish from last year at the Northeast Divisional Champs held this weekend in Athens. 56 different swimmers scored led, once again by the 13-14 boys who were 2nd. Josh Fountain, Anna Jahns and Griffin Hammett all broke team records - Fountain in the 1650, and Jahns and Hammett in the 400 IM. Jahns and Hammett won 4 and 5 events respectively. Keegan Walsh (2x), Ryan Haskins and Marlow Misner also won events. The team also, once again, showed great team spirit. Thanx to all the parents who helped organize (and the catered meals too!) Standard breakers for the meet were:
First AAAA (Silver Cap) Times -

Josh Fountain, Griffin Hammett

First AA Times - Ciara Mitchell, Michael Pacocha, Dorian Rosenburg
First A Times -

Bailee Hammett, Jacy MacConvery, Michael Thompson

First BB Times - Zachary Culbertson, Russell Hart, Marlow Misner
First B Times - Jarrod Disher, Charlotte Lane, Aaliah Mobley, Ashley Pingel
First State Cuts - MacConvery, Thompson, Matthew Albers, Lindsey Diehl, Marianna Markley, Haley Shepard
Results | GwinAq Results | Pix: Day 1, Day 2, Day 3
USAS Standard Breakers | Season Fast Five
---
Gwinnett Aquatics 7th at Senior Sectional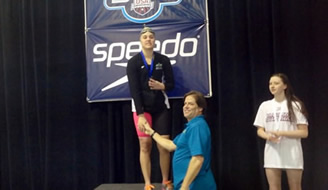 3/18 - Anna Jahns competed at the ESSZ Senior Sectional Champs this weekend in Charlotte. Gwinnett Aquatics (aka Team Anna) took 7th in the women's division. The sectional meet features the top senior swimmers from the Southeast and this year included numerous US National Team members. Anna won the 1000 free, took 2nd in the 500 and third in the 1650, breaking the team record in all three as well as the 200 back where she was 8th. Her time in the 1000 qualified for US Nationals and was the third fastest swim by a 15-16 girl this year. Her time in the mile missed breaking the Georgia State record (set in 1990!) by .7 She will be trying again at Divisionals so be sure to cheer her on.
Sectional Results | GwinAq Results
---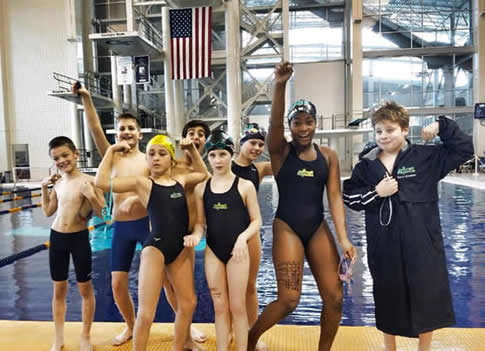 Smaller Squad Swims Big at Age Group States
2/24 - Even with tougher cuts and a smaller state team, Gwinnett Aquatics put together a great effort at Age Group State Champs this weekend at Ga Tech. The team finished 13th overall, which is 3 places lower than last year. But last year's squad was nearly 50% larger. This year's team outscored the 2012 team which was larger too. Five swimmers scored individually and nearly all our relays scored. Griffin Hammett scored nine times including a fifth and three sixths. Keegan Walsh, Josh Fountain and Sarah Jahns all scored twice including a third place for Sarah in the 1000 and Keegan and Sarah's first AAA (All-star times) and Josh's first ever Senior Sectional cut. Harry Duncan scored 10th in the 1000. Ian O'Hara got his first ever AA and Colin Houck his first ever A time.
---
Big Fun Meet Yields Fast Times
2/23 - While their teammates were competing at the Age Group State Champs, over thirty swimmers competed in the Fun Meet Saturday at the Gwinnett Aquatics pool. It was a great way for everyone to do a little racing to stay sharp leading up to the Divisional Meet in 5 weeks.
---
Over 130 New State Cuts Made at Gwinnett Aquatics' Winter Qualifier
2/9 - Swimmers from a dozen different metro area clubs achieved over 130 new state cuts at the Gwinnett Aquatics Qualifier this weekend. The meet, hosted at Greater Atlanta Christian School's beautiful Freeman Aquatic Center, was at full capacity for the first time since we began hosting this meet four years ago. The meet featured single year age group awards and tattoos for new qualifiers. Check out the results using the link below. Thank you to all the volunteers and officials for your help running a great meet.
And while the Gwinnett Aquatics parents were working, so were their swimmers. Nine GaGa swimmers picked up 15 new state cuts, including Bryce Dopson who got his first. Ryan Haskins got his first AA and Grant Deckers his first B time.
Meanwhile at the Georgia High School State Champs Anna Jahns won the 500 free with a new team record and a Scholastic All-American and High School All-American time of 4:49. She also got the team record in the 200 free where she was second. Steven Lewis earned his first ever AAA (All-Star) time in the 100 breast taking 14th. And Matthew Albers got his first AA in the 500.
Winter Qualifier GaGa Results | HS State GaGa Results
Standard Breakers
---