Rosenburg Invite, Rain and Racing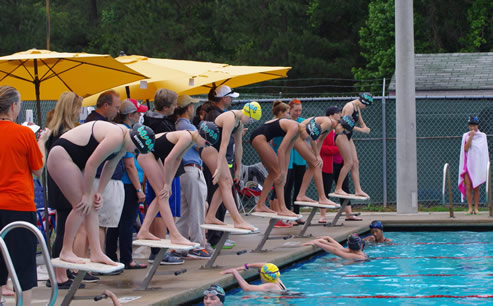 5/21 - Swimmers at the Rosenburg Spring Invite, with its attendant rain, got off early this year. After a year off, the Invite returned this year with a new format and a completely tolerable afternoon shower. the swimmers capitalized with a host of first time long course swims, new best times and new time standards.
Another change was that we swam the meet as a dual meet with Lifetime Fitness. The scoring was tight in most events with. GA taking the win 874-620 mostly on the 400, 800 free and 200 IM events. .
Isaac Saenz got his first ever AAA (All-Star) time while Matthew Albers, Marlowe Misner, and Drew Grier got their first AA's. Bryce and Hailey Dopson got their first A times while Harry Duncan, Ryan Haskins and Ella Smith got their first BB times. Bennett Culbertson, Hannah Delong, David Duong, Grace Fleming, Lina Le, Ella Moulder, Devin Petmecky, Sydney Spruiell and Dylan Willis got their first B times (first ever for Fleming and Willis!).

Meet Results
GwinAq Results
Standard Breakers
---
Long Course Season Kicks Off at Ga Tech
5/1/16 - Over fifty GaGa swimmers kicked off the long course season this weekend at the Long Course Kickoff at Georgia Tech. The first meet of every year is always a lot of fun with lots of swimmers getting to see how much they've improved since last summer with some big drops. This year the percentage of best times was even higher than usual. Even some of the teens in the morning got to get some PRs, which doesn't happen as often in season for older swimmers.
This year we're also off to a faster start than last year with a number of swimmers already picking up AAA (Griffin Hammett, Alex Norcini) and AA (Samantha Lewis, Rachel Peden, Isaac Saenz) times. New swimmer Freddy Xu even picked up his first State cut!
Check out the results using the links below.
---
Gwinnett Aquatics Defends Third at Northeast Divisionals
Hammett, Rees break four team records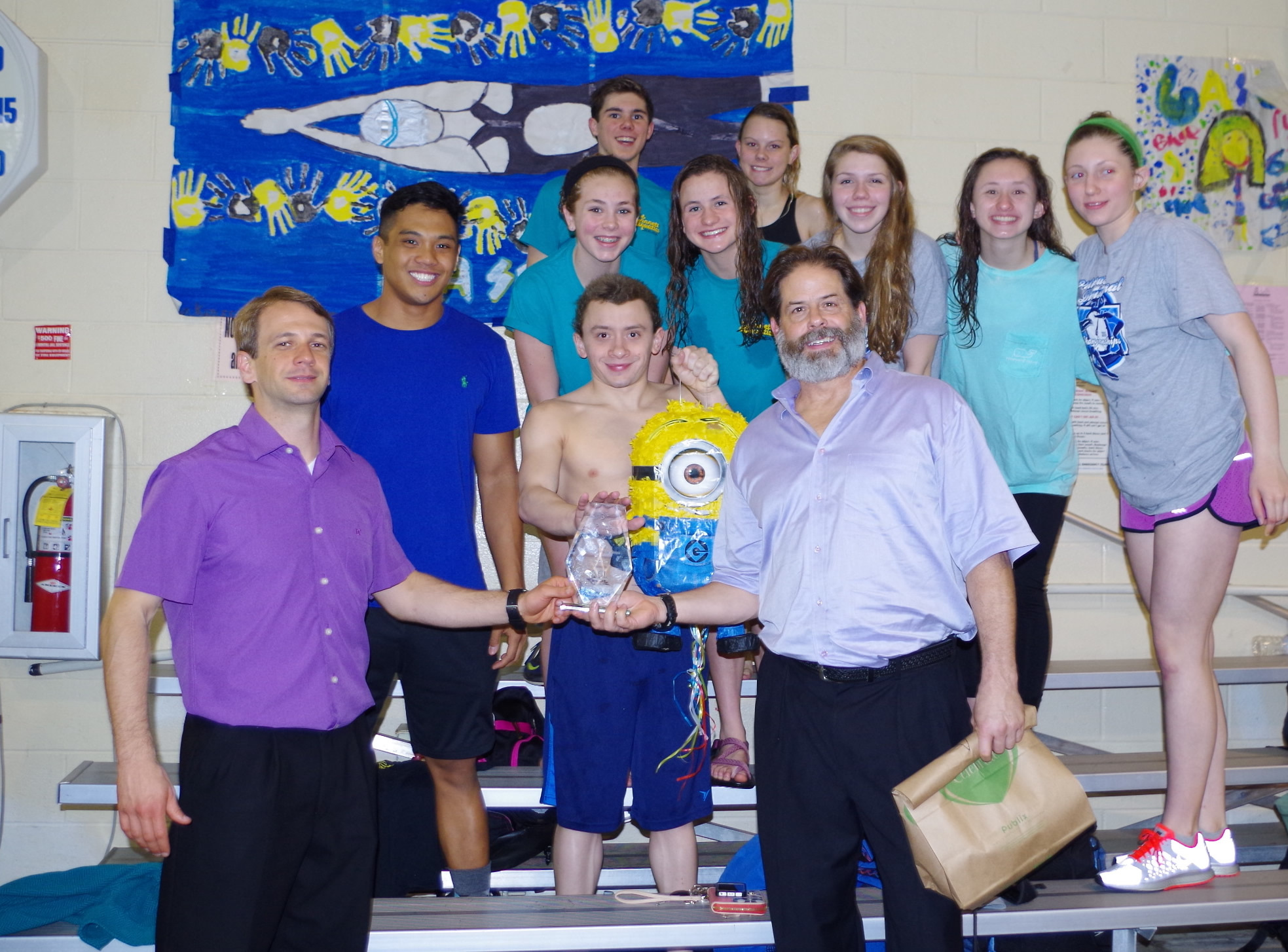 3/21/16 - Gwinnett Aquatics finished 3rd at this weekend's Divisional Champs in Augusta besting last year's score which was already a three-year high. Three swimmers: Hailey Dopson (9), Griffin Hammett (8), and Jacob Rees combined for 18 event victories while a whopping 31 others had a top-8 finish. Hammett and Rees combined to break four team records. Rees also got his Scholastic All-American time. Juliana Carey got her first ever Futures cut.
The team also, once again, showed great team spirit. Thanx to all the parents who helped organize the posters, shirts, theme-ware and the catered meals too, (Thanx Judy!)! It really helped make this a special weekend for the swimmers. Standard breakers for the meet were:
First AAAA (Silver Cap) Times -

Rees, Hammett

First AA Times - Marilyn Coughlin, Grant Deckers, Jarod Disher
First A Times -

Darnell Mitchell, Caitlyn Petmecky

First BB Times - Taylor Bowling, Austin Bynum, Bennett Culbertson, David Duong, Janelle Mitchell, Caroline Smith, Blake Wilson
First B Times - Brielle Mitchell
First Sectional Cuts - Matthew Albers, Alex Norcini, Brad Wyzykowski
First State Cuts - Coughlin, Disher, Charlie Fountain, Desymber Richie
Results | GaGa Results
Standard Breakers | Pics (soon)
---
Seniors Race the Celebrities in Knoxville, GaGa Tunes Up for Divisionals at Gainesville
3/7/16 - Gwinnett Aquatics' sectional team competed at the star-studded Southern Premier in Knoxville, TN this weekend. The meet featured some of the fastest swimmers in the country including the always popular Ryan Lochte (swim-moms were swooning in the stands). Meanwhile Josh Fountain swam to a 12th pace finish in the 1500 while Alex Norcini, Juliana Carey and Matthew Albers all picked up some additional Sectional qualifying times.
Meanwhile the bulk of the team was getting in one last racing opportunity before the Divisional Champs. Being situated as it was between our big Qualifier meet and the season champs, there were not a lot of new standards achieved but there was plenty of great racing.
Southern Premier Results | GwinAq Results
Lanier Pentathlon Results | GwinAq Results
---
New Standards Fall at 14U State Champs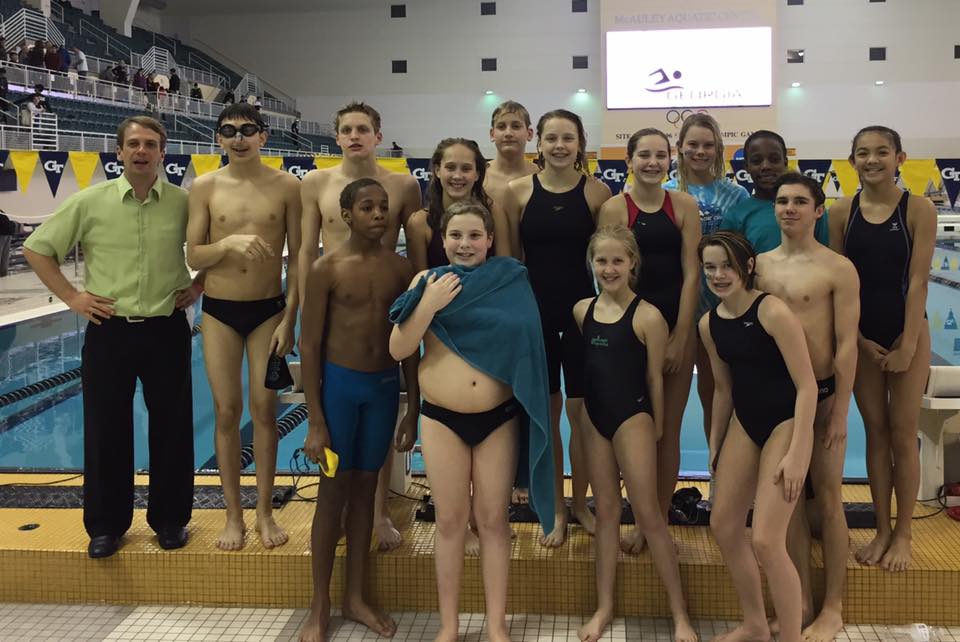 2/21/16 - Gwinnett Aquatics' Age Group state team competed at 14U Champs this weekend at Ga Tech. It was a slightly smaller team than last year but more competitive in the relays. Thanks to those relays, and despite having fewer swimmers score individually, GwinAq moved up two places from last year to thirteenth overall, sixth in the medium sized teams division. Individually Lindsey Diehl and Griffin Hammett led the way with Diehl recording nine top ten scores and Hammett scoring in six events. .
Samantha Lewis and Rachel Peden picked up their first AAA times while Ryan Haskins got his first AA time. With far fewer swimmers aging up next season (six state swimmers aged up in the last 2 months), we should have a great long course state team!
Results | GwinAq Results
Standard Breakers
---
GA Winter Qualifier
2/14/16 - The Gwinnett Aquatics GA Winter Qualifier was this weekend at Greater Atlanta Christian school in Norcross. Over 230 swimmers competed with about 50 new state cuts achieved. The meet featured all events for age groupers, single year age groups for awards and special tattoos for new state champs qualifiers.
The GaGa swimmers made the most of the opportunity with half a dozen swimmers picking up a dozen new state cuts, including Russel Hart getting his first one for this year and Aaliah Mobley getting her first one ever! In addition Hailey Dopson got her first ever A time and Ella Moulder her first BB. And there were a slew of new B times: Caroline Davis, Hannah DeLong, Alyaan Jiwani, Brodie McCluggage, Catie Rovie, Brandon Shepard, and Zoe Wilson.
GwinAq Results | Standard Breakers
---