Gwinnett Aquatics Seniors Perfect at State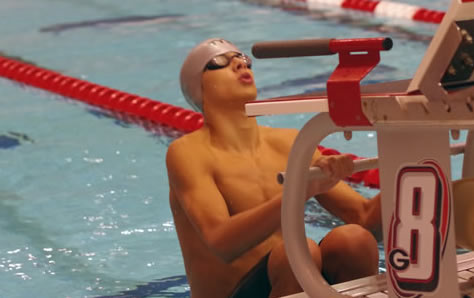 7/28 - The Gwinnett Aquatics senior swimmers (except for Anna J) wrapped up their long course season in grand style this weekend going 100% over 33 swims with the average drop exceeding three seconds per 100! Much of that was in the 1500s but even taking those out the average improvement was over 2 seconds/100m. Even more exceptional...this team was an all rookie squad. All were attending LC Sr State for the first time! Josh Fountain was the lone individual scorer, taking 7th in the 1500. (the 800 free relay also got 7th). Bryce Peden (left) and Steven Lewis had second swim with Peden getting his first ever sectional cut. Fountain, Peden, Lewis, Matthew Albers, Abby Culbertson, Jacy MacConvery, and Bradford Wyzykowski all had 100% best times.
Senior State Results | GwinAq Results
Fast Five | IMX Scores | Standard Breakers
---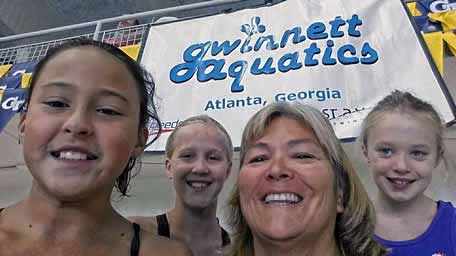 Gwinnett Aquatics Ninth at Age Group State

7/21 - Gwinnett Aquatics finished ninth at the Age Group State Champs at Georgia Tech last week. We were fourth in the medium team division just missing our first trophy in at least 6 years by a mere five points! GaGa was led in scoring by Griffin Hammett who won the 1500 free and scored in 8 other events. Also scoring were Juliana Carey, Lauren Diehl, Ava Gawronski, Sarah Jahns, Samantha Lewis and Keegan Walsh. Hammett was also selected to the Georgia Zone team and he and Walsh picked up their first AAAA (silver cap) times of the season! Julianna Carey got her first AAA (All-star) time of the season.
Age Group State Champs Page | Results
GwinAq Results | LC Season Standard Breakers
---
2014-15 Gwinnett Aquatics Team, Clinic Registration Now Open to the Public

7/11 - Registration for the 2014-15 season for Gwinnett Aquatics Team as well as our 13 & Over, High School, 12 & Under and Homeschool clinics, is now open to all interested swimmers. All new swimmers should have an evaluation before registering. Evaluations are done every Monday and Wednesday at 5:30pm. Once that is done just go to our registration page to get started. (There are no evaluations July 16 due to Age Group State Champs)
Swim Team Registration Page | Clinics Page | Homeschool Page
---
Standards Fall at Hixon Invite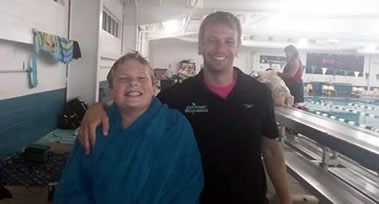 6/30 - Gwinnett Aquatics swimmers picked up a ton of new state and USAS time standards at the Hixon Invite in Marietta this weekend. Matthew Albers, Lauren Diehl, Lindsey Diehl, Ryan Haskins, Samantha Lewis, Ian O'Hara, and Keegan Walsh all picked up new state cuts. Lewis also got her first ever AAA (All-Star) time while Lauren Diehl got her first AA. Keeley Smith earned her first BB of the season while Jarod Disher got his first B times
Meet Results | GwinAq Results | Standard Breakers
---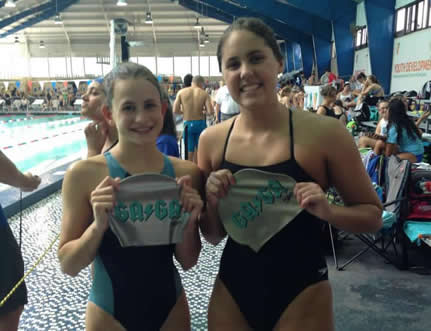 GwinAq 11th at YCF Liberty Invite
Jahns, Carey Break Team Records
6/23 - Led by meet high point winners Anna Jahns and Griffin Hammett, Gwinnett Aquatics swam to an 11th place finish at the YCF Liberty Invite in Orlando. Jahns won 5 events while Hammett won 7 to be their age group's highest finishers. Other medalists include Sarah Jahns, who won the 400 free and Keegan Walsh, who was second in the 100 back. Anna Jahns and Julianna Carey picked up new team records in the 200 back and 100 fly respectively. Jahns also get her first AAAA of the season, while Matthew Albers, Steven Lewis, Bryce Peden, and Bradford Wyzykowski got their first AAs. Lina Le and Ava Gawronski got their first A times. Gawrosnki also picked up her first state cuts.
---
GaGa Swims Open Water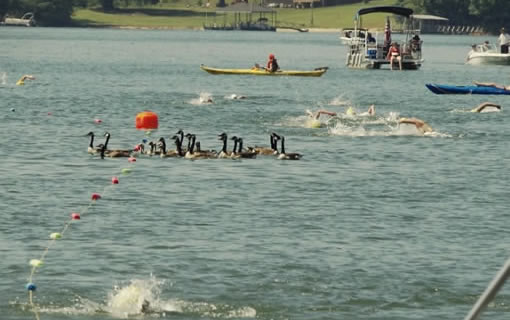 6/15 - GaGa had a great showing this weekend at the Death Valley Open Water Swim in Clemson SC. A dozen swimmers competed in four different races (Josh Fountain did all four!). Anna Jahns won the women's 5k and Josh Fountain was 5th. Josh was 2nd in a photo finish in the 5k while Marianna Markley was 4th. (Josh was pushed out by a much older and bigger swimmer, boo!). Josh finished out the day with a 3rd in the 1k and winning the half-k. Results and pics can be viewed using the links below. The results are a little difficult to decipher as the South Carolina swimmers are separated out.
Death Valley Results
Open Water Pix
---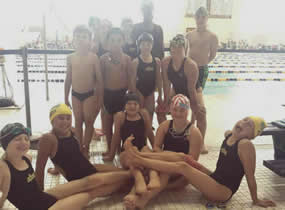 Gwinnett Aquatics Competes All Over Atlanta
6/2 - With two squads at two different meets, it was a very busy weekend for the team. Also a big weekend for new cuts and time standards, over 20 new state cuts and 50 time standards broken!
At Dynamo's Dixie Classic Anna and Sarah Jahns and Griffin Hammett combined to win six events, while Lauren Diehl, Samantha Lewis, Josh Pingel, Ciara Mitchell and Keegan Walsh all medaled. Abby Culbertson picked up her first Senior State cut while thirteen others added new cuts. Keegan Walsh got his first long course AAA (All-star) time. Julianna Carey, Josh Fountain, Samantha Lewis, Ciara Mitchell, and Dorian Rosenburg got their first AAs while Matthew Albers, Lindsey Diehl, Jacy MacConvery, Michael Pacocha and Hayley got their first A times. Lina Le and Josh Pingel got their first BB's.
At the Dunbar Invite at Tech we also had a boatload of great swims. Zach Culbertson and Charlie Fountain picked up their first long course State cuts (1st ever for Zach!) Culbertson, Grant Deckers, Alex Norcini, Kara Robinett and Riley and Sydney Spruiell got their first BB times while Emily Morgan got her first B time.
Dunbar Results | GwinAq Results | Standard Breakers
Dixie Results | GwinAq Results
---
Gwinnett Aquatics Hosts Third Annual Rosenburg Invite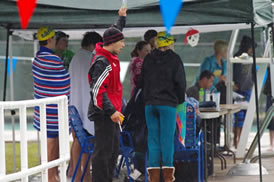 5/18 - Two years of challenging weather in a row couldn't hod us down at the Rosenburg Invite last weekend. Despite the cooler temps (sandwiched between two weekends of above average highs), our swimmers had a good start to the season. Eleven swimmers had 100% best times and a number of our 8 and Unders even beat their converted short course times. Griffin Hammett already picked up his long course All Star (AAA) times, while Matthew Albers, Juliana Carey, Josh Fountain and Ciara Mitchell got their A times. Alex Norcini, in his first meet, got his first BB times. Lauren and Lindsey Diehl, Ryan Haskins and Samantha Lewis all picked up new state cuts. Thanx to all the parent volunteers who not lnly did a great job but also served as great role models to the young swimmers about keeping a positive attitude in all sort of conditions.
---