Georgia 2017 14 and Under Long Course State Championships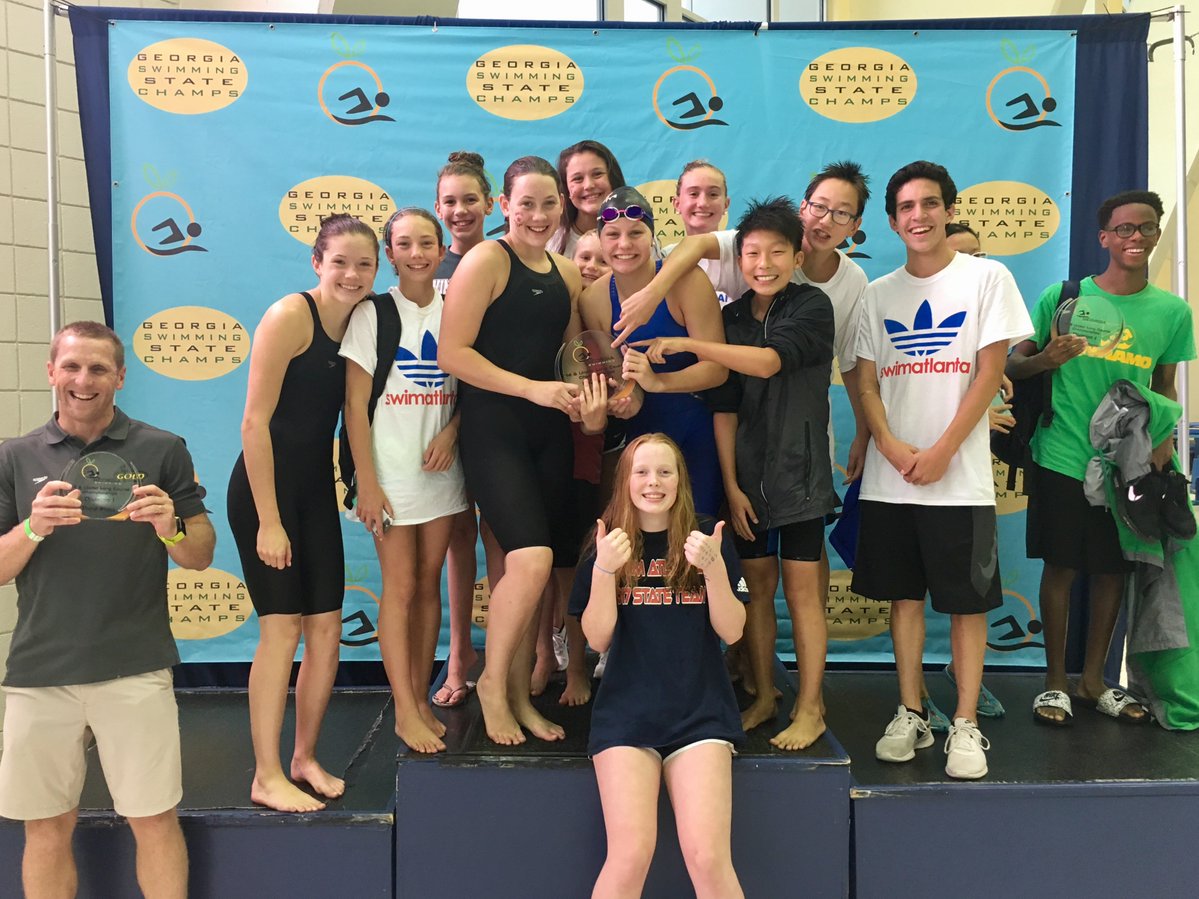 7/24 - The 2017 Georgia Long Course Age Group State Championship hosted by Gwinnett Aquatics wrapped up Sunday night with the announcement of team scores, high point individuals, and the Georgia Zone Team roster. SwimAtlanta, Marietta Marlins, and Tiftarea Tidal Wave took home first place trophies in their respective division. Congratulations to all of the swimmers, coaches, parents, and fans for a successful championship meet weekend. And thank you to the officials, volunteers, and Gwinnett Aquatics family for hosting this year's meet.
Division Scores
Division I
(201+ swimmers)

Division II
(81-200 swimmers)
Division III
(1-80 swimmers)
SwimAtlanta 4739
Dynamo Swim Club 4080.5
Chattahoochee Gold 1799
Marietta Marlins 1267
Gwinnett Aquatics 444
Summit Swimming 417.5
Tiftarea Tidal Wave 342
Carpet Capital 252.5
HLHK Seals 186
High-Point Winners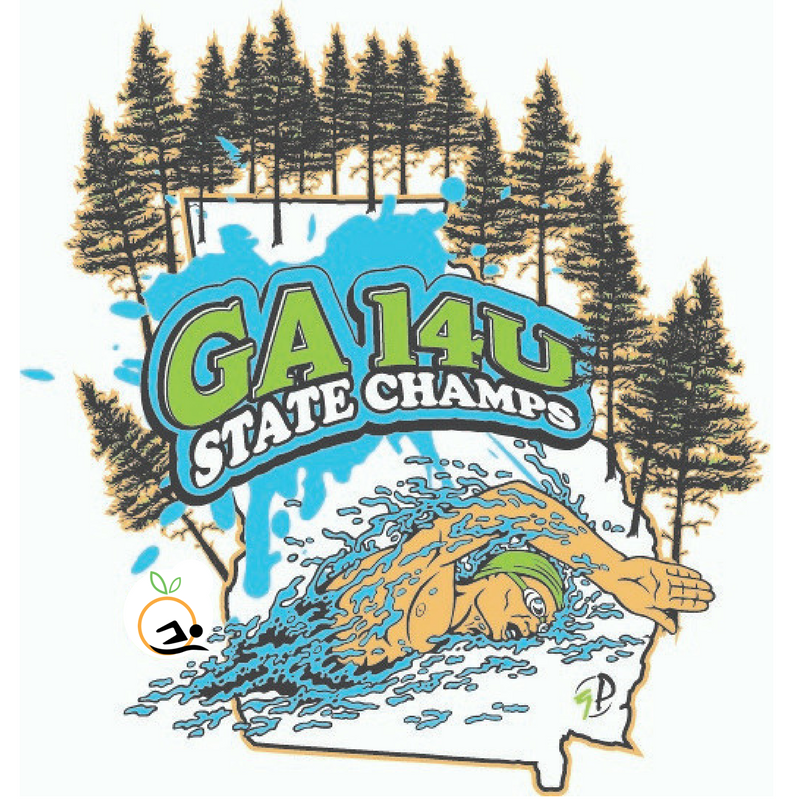 Female
10 & Under: Elyssa Maust (GCAT)
11: Gaby VanBrunt (GCAT)
12: Rye Ulett (DYNA)
13-14: Samantha Mobley (LINS)
Male
10 & Under: Daniel Bao (DYNA)
11: Caleb Paek (SA)
12: Thomas Xiao (DYNA)
13-14: Nicklas Bohn (DYNA)
LSC Records Broken
Individuals
Rye Ulett (DYNA) broke five 11-12 girls records: 200m free, 50m back, 100m fly, 200 IM and 200 butterfly.
Thomas Xiao (DYNA) broke the 11-12 boys 100m breaststroke record.
Dynamo boys relay of Kamal Muhammad, Phillip Kuznetsov, Ben Grottle, and Nicklas Bohn set the new record in 400 Free Relay.
SwimAtlanta girls 13-14 relay of Abigail McCulloh, Lily Burke, Sarah Livingston, and Hailey Galbraith broke the 400 Free Relay record.
Meet Page | Meet Results | Team Scores
---
Ga-Ga 2nd in Medium Team Division at Age Group State!
Following our best-ever finish at the SCY Age Group State Champs back in February, our 14&U swimmers topped that one in the LCM meet held last week at Ga Tech, finishing 9th overall and 2nd amongst the Medium Teams Division. This is our highest ever finish at a State Champs! Individually the team was led in scoring by Issac Saenz, who won 2 events and medaled in 6 others! Marlowe Misner, our next top-scorer, also had a top-3 finish and multiple scoring swims; Graham Simmon and Lauren Diehl also had multiple scoring swims each, and Lindsey Diehl rounded up our individual scorers.
And while our swimmers had plenty of individual highlights, it was our Ga-Ga Relays that really made a difference in the team scoring, and provided some of our best swims of the weekend, including a whooping 8 New Club Records! The 12&U foursome of Lindsey Diehl, Desymber Richie, Marlowe Misner and Hanna Burke broke a record in all 4 of their swims! Not to be outdone, the 10&U quartet of Hannah-Claire Jowers, Grace Fleming, Caitlyn Diehl and Cate Rovie also broke a record both times they were combined! Finally, the 14&U Girls (Haley Burke, Maggie Nguyen, Lauren Diehl, Ava Gawronski) and the 12&U Boys (Nolan Patterson, Graham Simmon, Isaac Saenz) both broke the 400 Medley Record for their age group!
Saenz picked up his first AAAA(s) of the season and also broke the team record in the 10&U 100 Fly! Simmon picked up his first-ever AAA, and Rachel DeLong picked up her first-ever A time. Simmon, as well as Caitlyn Diehl, Ryan Haskins and Dylan Yin were all 100% best times! For our Age Groupers, this was a great way to cap off a season in which we kept getting better and better, and especially on those older age groups it showed how much of a difference it makes to have a consistent attendance through the season, and especially the commitment to train and follow the plan for the summer season.
And of course, we couldn't mention Age Group State without a HUGE THANK YOU to all our parents (and swimmers) who helped us run the meet! While we struggled a little more this year than in the past to fill-up our volunteer slots, there were quite a few families who gave up so much of their time to make this meet a success: in the hospitality room, as officials, or on deck as times, runners, and a variety of other jobs! Once again we heard tons of positive feedback from other teams, and have maintained our great reputation as an organization that does things right - and deservedly so!
Meet Results | Team Scores | GwinAq Results
Standard Breakers
---
Registration Now Open for 2017-18 Swim Team, Lessons
7/1 - Registration is now open to the public for our 2017-18 Swim Team as well as our August swim lessons. Those registering for 2017-18 will be able to start during our pre-season mini-camp that starts August 14. The regular season will start September 5. Lessons start August 15. We will also have our 13 and Over Training camp in August. Check back here for that registration later this month.
Use the links below to access the site for the program you wish to register. We are using a new on-line registration system through TeamUnify so be sure to use these new links.
PLEASE NOTE: Some groups are now at their registration limit. If you are evaluated for one of the groups that are full, sign up on the waiting list. We will update from that list weekly until we are at capacity.
---
Championship Meets, Round Two
Norcini, Fountain, Sr Boys Break Six Team Records
7/17 - GaGa swimmers continued their run of championship meets this weekend at the Columbus EOS Invite and the Senior Sectional Champs in Athens. Over 25 swimmers competed in Columbus. Hanna Burke, Jarod Disher, Wesley Carter and Nolan Patterson all won events and Patterson and Desymber Richie picked up new state cuts. Olivia Yeiser got her first ever B times.
Meanwhile at Senior Sectionals a group of eight senior swimmers were putting together the best Senior Long Course Champs Meet we've ever had. WE usually don't take a lot to this meet as it is dominated by college swimmers. But this year we had eight swimmers go and had multiple finalists every night. Alex Norcini and Josh Fountain both picked up their first AAAA times as well as three team records. They, together with Griffin Hammett, Daniel Johnson and Drew Grier also broke all three Senior Relay records. Alex's new times also moved him back into the top 20 in the country in the IMX rankings. Fountain and Sarah Jahns also scored individually in the distance events with Jahns missing a top-8 finish by .05! And it was against the girl right next to her as they raced furiously on the last 50.
CAC Team Results | Sr Sect Team Results

---
Championship Meets Kick Off at Dynamo End of Season Meet
7/10 - The big last meets of the season kicked off this weekend at Dynamo at the End of Season Invite. Over 50 swimmers took to their last long course meet with mostly great success as reflected by the number of wins and the new standards achieved. Grant Deckers and Isaac Saenz both won events and numerous others scored even though the meet was more competitive this year than ever before.
Hannah and Rachel DeLong, Grace Fleming, Ryan Haskins, Maggie Nguyen and Dylan Yin all picked up new state cuts. Haskins also got his first AA, while Sahil Khatri, Sofie Rees and Blake Wilson got their first A times and Zoe Wilson her first BB times. Tanner Manson earned his first ever B time!
DYNA EOS Results | GwinAq Results
Standard Breakers
---
GwinAq Attack on Twin Meets!

6/28 - Gwinnett Aquatics once again had two squads in competition this weekend but this time in two different states. 30 swimmers competed at the SYS Open in Florida while 40 more were in Marietta for the Hixon Invite. Between the two meets there was, like last year, some of the fastest mid-season swimming we have done.
Between the two meets we had over a dozen finalists, six new AAA swimmers and numerous new state qualifying swims. Andrew Guo made his first ever State time! At a very competitive meet in Sarasota we had more swimmers in finals including Juliana Carey (5), Grant Deckers, Lauren and Lindsey Diehl, Drew Grier, Alex Norcini (7), and Graham (swimmin') Simon. In Marietta Isaac Saenz was the high point swimmer.
Time Standard Achievers at the two meets were:
First AAA Times - Charlie Fountain, Griffin Hammett, Sarah Jahns, Daniel Johnson, Grant Deckers (1st ever!), Maggie Nguyen (1st ever!)
First AA Times - Ava Gawronski, Rachel Peden
First A Times - Haley Burke, Caitlyn Diehl, Grace Fleming, Nia Fraser, Ethan McKinsey, Emily Morgan
First B Times - Gryffin Moore, Brandon Shepard
First State Cuts - Andrew Guo
SYS Open Results | Hixon Results
GwinAq SYS Results | GwinAq Hixon Results
Travel Meet Photos

---
Team Splits for Open Water, Swim with Dad
6/11 - Gwinnett Aquatics had two different squads in competition this weekend. Saturday about 20 swimmers competed at the Death Valley Open Water swim in Clemson while another 40 were at the Swim With Dad Invite at Georgia Tech Sunday.
At Death Valley Josh Fountain swept all four races, a feat that's only been done by one other GaGa swimmer ever. Overall GaGa swimmers took 4 of the top 20 spots in the men's open 5k and Griffin Hammett, Charlie Fountain, Maggie Nguyen all had top 3 finishes in some of the shorter races while Grant Deckers and Graham Simmons each won a shorter race in the 12U division. Both Fountains, Hammett, Deckers, Jarod Disher, Wesley Carter, Sahil Khatri, Blake Wilson Haley Burke and Caitlyn Petmecky did all 4 races (for a total of 9.5k)! We also had a good group of first timers: Simmons, Carter, Nguyen, Blake and Zoe Wilson, Olivia Yeiser and Ella Moulder.
Meanwhile the group at Tech were taking great advantage of the extra opportunity to race long course. Bria Carter, Caitlyn, Lauren and Lindsey Diehl, Drew Grier, Ryan Haskins, Sarah Jahns, Hannah-Claire Jowers, Kaylee McLester, Marlowe Misner, Gavin Moore, Isaac Saenz and Dylan Yin all won events.
Open Water Results | Swim w/ Dad Meet Results
Open Water Pics | GwinAq Swim w/ Dad Meet Results
---