Printable Version
2017 LC Calendar
You can view the entire calendar for the LCM season by clicking the link above

TU Event Page

Use this link for more info on each event and to sign-up for them.
All the meets for the LCM season are already listed

- you can go ahead and respond to every meet!
(if something comes up, you can change your reply later).
June 22 - Sr/HSTG/Prep 8:00am-10:30am (note changes)
Blue/Gold 10:30am-12:00noon
June 22-25 - Team Travel Meet @ Sarasota, Fl
June 23-24 - NO Workouts
June 23-25 - RAYS Stu Hixon Invite @ Mtn View Aquatic Center
June 26 - NO Workouts
July 7-9 - End of Season Invite @ Dynamo
July 13-16 - Senior Sectionals @ UGA
July 14-16 - Columbus Invite @ Columbus, Ga
July 20-23 - Georgia 14&U Age-Group State Champs (hosted by us!)
July 28-30 - Georgia Senior State Champs
Aug 1-5 - Southern Zone Championships @ Tupelo, MS
Aug 3-6 - Futures Championships @ Nashville, TN
Aug 8-12 - Jr Nationals @ East Meadow, NY
---
Education Column
We come across a few great articles on a variety of topics - parenting, nutrition, mental training, sports parenting, drills, etc. In this column we'll share the best one every week. Be sure to check it out and click the link to read the entire article!
9 Things Great Performers do Differently
"What makes great? What are the principles that underlie mastery across fields and capabilities?
To find the answer, we spoke with world-class athletes, artists, entrepreneurs, and intellects, and we poured over literature from diverse fields including psychology, neuroscience, biology, physiology, and even philosophy. We learned enough to fill a book (that's why we wrote one!), and what follows are some of the highlights. Each of the principles below is supported by both science and the experience of individuals who are on top of their respective fields. And best of all, each principle can be practiced by anyone." click here to read the full article
---
June Payments Past Due
June payments are now past due - everyone should have received their invoice on the 20th. Payments are due on the 1st and are considered late after the 5th. Please note that if a payment is not received by the 10th, a $25 late fee is added. You can mail a check, pay in person at the pool, or log in to your on-line account and pay by credit card or e-check. You can also pay on our Square On-line Store using the link below.
Mail payments to:
Gwinnett Aquatics
4691 Bryson Cove
Lilburn GA 30047
(Or put in coach Hugh's mailbox at the pool).
---
GwinAq's Affiliate
SwimOutlet.com
Gwinnett Aquatics is an affiliate of SwimOutlet.com. Use the link below to search SwimOutlet for some of the best prices on swim equipment. Be sure to use this link and your purchase will also support our program.
---
2016-17 SCY Recap
What a great SCY season! We scored the most amount of points ever in USA-Swimming's Virtual Club Championships (VCC), and to do that there were plenty of individual accomplishments - be sure to check them all on the links below:
2016-17 SCY Standard Breakers
2016-17 SCY IMX Scores
2016-17 SCY Fast 5
GwinAq SCY All-Time Top 10
2016 Fall Attendance Award
2016-17 Winter Attendance Award
2016 Long Course Recap
Our last LCM Season was one to remember! Check the links below to see all the individual accomplishments that helped make it one of the best LC seasons we ever had:
2016 LCM Standard Breakers
2016 LCM IMX Scores
2016 LCM Fast 5
GwinAq LCM All-time Top 10
2016 Spring/Summer Attendance Awards
---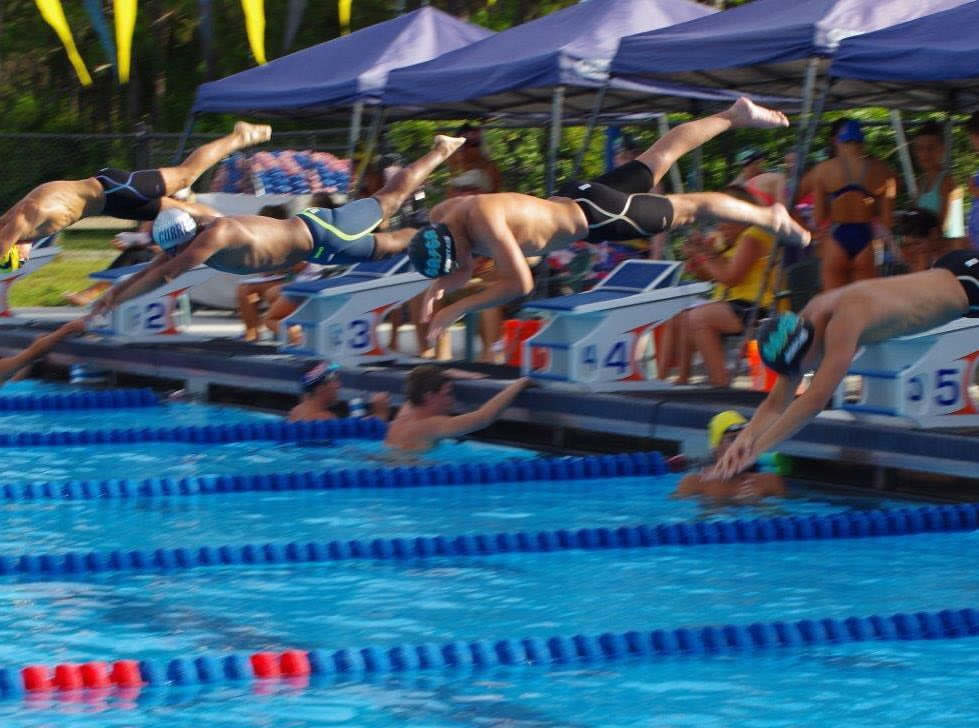 Last In-Season Meets Coming Up!
Following one of the rare and well-deserved quiet weekends last week, our swimmers are once again gearing up to race in two different states! These are the last in-season meets of this season, and so the last chance at getting cuts (and higher seeds) for the championship meets in July. We'll have 30 swimmers traveling together to Sarasota, FL, while 40 more are attending the Stingrays' Hixon Invite in Marietta. With our staff also being split between the two meets, there are many changes to the practice schedule over the weekend, including some days where we won't offer any practices, so be sure to check out all of these changes on the column to the left!
After these meets, everyone should know their end of season schedule. The way swimming training is structured, with a heavier training load in-season and prioritizing end-of-season meets, it is important swimmers start understanding that concept early, and especially important that older swimmers in Prep and Sr are given the chance to compete when their bodies are primed to go faster, at the end of the season! If you haven't done so yet, read the End of Season overview article at the bottom of this Newsletter, and if you have any questions be sure to contact your coach ASAP! Please note that the deadline for signing up for those meets is also right around the corner.
Finally, registration for next year will open this week! Be sure to also read that article below and register prior to the link going public on July 10 (after which, we cannot guarantee your spot on next year's team). So, once again there's a lot going on this weekend and in the next few weeks, so be sure to read on and stay up to date. And be ready to go FAST this weekend!!!

SYS Shark Open/Team Travel Meet this weekend Jun 22-25!
As mentioned above, we have 30 swimmers, our largest group in a few years, heading over to Sarasota, Fl, for our annual Summer Team Travel Trip. Additional info for the trip portion went out by e-mail last week for those signed-up. Check that e-mail for itinerary, including warm-up times (and listen to coaches for possible changes to it), and be sure to arrive on time for your departure!
All swimmers should wear last year's Divisionals shirt (white) or the Winter Training shirt (dark green) on Thursday, last year's team shirt (teal) on Friday, this year's team shirt (white) on Saturday, and this year's Divisional shirt (blue) on Sunday. Team entries and Psych Sheet are posted below.

Rays' Hixon Invite this weekend Jun 23-25
The Stingrays' Stu Hixon Invite is this weekend, June 23-25, at the Mountain View Aquatic Center (2650 Gordy Pkwy, Marietta, GA 30066). This is a full 3-day Prelim/Final meet for 11&O swimmers, so everyone attending should be ready to attend Finals! Warm-up times all 3 days are 7:30am for 13&O; 1:00pm for 12&U; Finals warm-ups start at 5:30pm, but if you qualify double check with a coach what time you should be back.
Wear last year's team shirt (teal) on Friday, this year's team shirt (white) on Saturday, and this year's Divisional shirt (blue) or the Winter Training shirt (dark green) on Sunday. Complete meet info is posted in the event page (link below); team entries and a Psych Sheet are posted below.
And remember that, as mentioned in the opening article, we'll have a modified practice schedule on Thursday June 22nd and will not be able to offer any practices through the weekend - everyone should be signed up for a meet! We'll also take Monday, June 26th off.
LCM Championship Season Fast Approaching!
With the end of season only a few weeks away by now everyone needs to know which of the Championship Meet(s) they should attend! Below is a brief description of all End-of-Season meets on our schedule and who should be targeting each one. Please note that the deadline for signing up for those is also just around the corner, so go ahead and reply to them! As always, if you have any questions please don't hesitate to contact your child's coach - and at this point be sure to do so ASAP!
July 7-9 - Dynamo's End-of-Season Invite

: this is a full 3-day Prelim/Final meet, including 12&U events (likely swam in the afternoon, with 11-12s coming back for Finals). This is recommended end-of-season meet for our Senior Level swimmers who have fewer than 3 Senior State cuts. HSTG and 13&O Prep swimmers who can't commit to the Columbus meet fully should also plan on making this their end-of-season meet (though please note that is not our preference).

The deadline to reply to this meet is this Thursday, June 22nd

!


This is the same weekend as the Gwinnett County Summer League Championships; swimmers for whom this is their end-of-season meet will be expected to swim at this meet fully and skip county champs. State qualifiers might be asked to swim at this meet on the days they are not at County.


July 14-16 - Columbus Hurricane Invite

: this is the first year we'll have a meet on a weekend between Dynamo's End of Season and Age Group State, and we are planning to take full advantage of it! This will be a prelims/finals meet for 13&Over and Timed Finals meet for 12&U (and best of all, it does not conflict with GCSL County Champs!). It will also serve as a last chance qualifier for the State meets.

We would like all Gold, Prep and HSTG swimmers who do not have State cuts to plan on making this their End of Season meet and attend it fully

.

The deadline for replying to this meet is next Thursday, June 29th

!

Note: if you're attending this meet and need to book a hotel, check out the article below with more info for a hotel block we have for the team - you only have until July 1st to book those!


July 20-23 - 14&U Age Group State Champs

: this is the most competitive meet for our 14&U swimmers (unless they qualify for Southern Zones), and ALL qualified swimmers should plan on attending it! Swimmers with less than 3 cuts might be encouraged to swim fully the weekend before, but should still plan on attending this meet. As usual, we'll also invite a few swimmers to fill in relays in which we are competitive enough to score at the meet, but those swimmers should also be planning on having a complete meet to swim at, ideally the Columbus Invite the weekend before.


Important

: Ga-Ga is hosting this meet, so we'll require ALL families to help with the organizing (even if your child will not swim at the meet). More info on this went out by e-mail earlier, and it's also available on the article below.


July 28-30 - Senior State

: this will be the main end of season meet for swimmers with 3 or more cuts. As mentioned above, swimmers in our Senior group with less than 3 cuts will treat Dynamo's End of Season Invite as their primary meet, and might do a 2nd rest & shave for this meet.
Preparation for Age Group State Champs Under Way!
Age Group State Champs will be hosted by Gwinnett Aquatics July 20-23 at Ga Tech. We run a quality meet which is great for all the swimmers, including our own, AND we make a fair amount of money for the team capital campaign. It is our largest fundraiser of the year...by far.
But it takes a village (or at least a team). We will need to cover over 180 slots over the 10 sessions (1 Thursday afternoon and 3 each Friday-Sunday). We are asking every family in Gwinnett Aquatics to work at least 3 sessions, primarily as timers. Children over 13 are eligible to volunteer as well. Families will get $20 per session worked (up to 3) from their escrow account credited to their August bill!
We know there's a number of parents who don't want to sign up because they are afraid to time. Please be assured this is a simple job and, unlike summer league, your times are just the 2nd backup system and even then you're not the only timer, there is a backup for you whenever you have an issue. And you get a volunteer shirt! Who would want to miss out on all that fun?
To signup just go to the event page on TeamUnify (there's a link below) and choose your slots. (Officials will have a separate sign-up through Sign-up Genius coming out soon.) We ask that everyone sign up by July 1 so we know if he have to get some outside groups to come in and cover some slots. So please sign-upright away! If you know you will be unable to fill your slots please email coach Hugh (hugh@gwinnettaquatics.com) so we know not to keep asking. Your $60 will then be used to donate to the outside groups we bring in.
Other than timing, there are not a lot of other volunteer options, however if you are able to secure donations for food in excess of $60 or sell an ad for the program this can meet your obligation as well. For more information on these options please contact Coach Hugh (link and e-mail above).
2017 Age Group State Champs Job Signup
Team Hotel Block for Columbus Invite
For those families who will take advantage of the Columbus Invite, we have a block of rooms reserved at the Fairfield Inn & Suites (only 4 miles from the pool). They are holding 30 rooms for us until July 1 - 13 king suites (one king bed and sleeper sofa), 13 double rooms and 4 single king (one king bed, no sleeper sofa) rooms. Our group rate is $89 per night and includes free breakfast.
After July 1st, any unbooked rooms will be released so be sure to book by then in order to get the rate! To reserve your room, you can either use the link below or call the hotel directly and book it - if you call, just mention you are with Gwinnett Aquatics in order to get that rate. Here's the Hotel Info:
Fairfield Inn & Suites
4510 Armour Rd , Columbus, Ga 31904
706-317-3600
Registration for 2017-18 Opening This Week!
Registration for 2017-18 will open this week to returning swim team families only. Next week it will open to all program participants in the past year, before opening to the public July 10. We expect some groups to fill up quickly, so be sure to register right away!
The registration process is simple and takes only a few minutes. You will be requested to pay the $115 registration fee before completing it. Returning swim team members need to have their accounts current before they register (note that July invoices are only due on the 1st, so you those don't have to be paid if you register before that; however, they must be paid by the 5th or your registration will be held). If having your account current and covering the registration fee will be a financial difficulty, contact Coach Hugh right away to make other arrangements.
You should sign up for the same group you are currently in unless you receive a move-up letter (move-up letters will be handed out during practices this and next week). If you are not sure about your group contact Coach Hugh (link above).
Additionally, remember this is also the best time to help us recruiting new members to the team! You can help by getting our brochure (link below, and some copies available at the pool) into the hands of any potential families.
Calling All Scholars - Ga-Ga Honor Roll!
Congratulations to all the swimmers listed below for achieving Honor Roll status during the last quarter/semester of school. Thanks for once again showing our swimmers are high achievers in the classroom as much as in the water!
Abby Bold
Caroline Bold
Juliana Carey
Marilyn Coughlin
Abby Culbertson
Bennett Culbertson
Lauren Diehl
Charlie Fountain
Ava Gawronski
Drew Grier
Griffin Hammett
Ryan Haskins
Max Inlow
Sarah Jahns

Hanna Claire Jowers
Nelson Law
Emily Li
Kaylee McLester
Brielle Mitchell
Danielle Mitchell
Darnell Mitchell
Janelle Mitchell
Rielle Mitchell
Ella Moulder
Maggie Nguyen
Alex Norcini
Dakota Richie

Desymber Richie
Caitlyn Petmecky
Devin Petmecky
Cate Rovie
Jillian Rovie
Addison Shaffer
Sijia She
Brandon Shepard
Riley Spruiell
Sydney Spruiell
Blake Wilson
Zoe Wilson
Dylan Yin
Freddy Xu
Blue/Gold Dryland Now Working on Baseball!
Blue/Gold dryland is now focusing on on baseball skills! This is one of the many ways in which our program is designed to promote general athleticism in our swimmers and teach them some out-of-the water skills as well. Bring your gloves (we have plenty of bats).

---
School-Year Practice Schedule


Blue Team

- M, T, Th, Fr 5:30-6:45pm; Sat 9:30-11am
(

note

: Blue will only be offered T, Th and Sat between now and May 25th

)


Gold Team

–Mon-Fri 5:30-7pm; Sat 9:30-11am
*Wed will move to 5:15-6:45 starting late October


Prep Team

– M-Th 6:15-8:15/45pm; F 6-8:15pm; Sat 7:30-11am/10:15am-12:30pm
*Wed will move to 6:00-8:15pm starting in late October; 6:30-8am may be offered starting in late October.


Senior Team

- Mon, Wed, Fri 3-6pm; Tue, Thu 3-6:15pm; Sat 7:30-11am
*Mon, Wed 5-6:30am for select swimmers


HS Training Group

- Mon-Fri 2:45-5:00pm; Sat 12noon-2:00pm


---
Gwinnett Aquatics