Printable Version
2017-18 Season Calendar
You can view the entire calendar for the next season by clicking the link above

TU Event Page

Use this link for more info on each event and to sign-up for them. You can go ahead and sign-up for all the meets between now and December! If anything comes up you can change your reply anytime prior to the deadline.
Oct 22 - Sr/HSTG/Prep Bike Ride @ Silver Comet
Oct 28 - Fall Racing Series #3
Oct 30 - Halloween Celebrations at the Pool (regular practice schedule)
Nov 11-12 - Rays' IMX Invite @ Marietta, Ga
Nov 17-19 - Woodie B. Invite @ Dynamo Chamblee, Ga
Nov 20-24 - Thanksgiving Practice Schedule (TBD)
Nov 29-Dec 9 - Swim-a-Thon (more info soon)
Dec 8-10 - Senior State Champs @ GA Tech
Dec 15-17 - Lanier Winter Invite @ Gainesville, Ga
Dec 23-Jan 3 - Winter Break Training Schedule (TBD)
---
Education Column
We come across a few great articles on a variety of topics - parenting, nutrition, mental training, sports parenting, drills, etc. In this column we'll share the best one every week. Be sure to check it out and click the link to read the entire article!
Energy Givers
"Every time you interact with another human being… you either give them energy ('fill their bucket') or you take their energy ('drain their bucket.'). In every instance you are either an energy giver or an energy taker.
If you want to be successful in life, you need to not only be an energy giver… you need to surround yourself with energy givers.
Energy givers make those around them better. 9 out of 10 people adamantly admit they are more productive when they are around positive people (aka 'energy givers')." click here to read the full article
---
October Payments Past Due
October fees are now past due. Payments are due on the 1st and are considered late after the 5th. Please note that if a payment is not received by the 10th, a $25 late fee is added. You can mail a check, pay in person at the pool, or log in to your on-line account and pay by credit card or e-check. You can also pay on our Square On-line Store using the link below.
Mail payments to:
Gwinnett Aquatics
4691 Bryson Cove
Lilburn GA 30047
(Or put in coach Hugh's mailbox at the pool).
---
GwinAq's Affiliate
SwimOutlet.com
Gwinnett Aquatics is an affiliate of SwimOutlet.com. Use the link below to search SwimOutlet for some of the best prices on swim equipment. Be sure to use this link and your purchase will also support our program.
---
2017 LCM Recap
Our last LCM season was certainly one to remember! We topped our best-ever score in USA-Swimming's Virtual Club Championships (VCC), and that was thanks to our swimmers' individual accomplishments - we had our largest numbers of swimmers with A times or higher (43!). But the best display of our improvement came in the whooping 10 new club relay records set through the season! Check the links below for more info on such a great season!
2017 LCM Standard Breakers
2017 LCM IMX Scores
2017 LCM Fast 5
GwinAq LCM All-Time Top 10
2017 Spring/Summer Attendance Award
2017 LCM VCC Score Summary
2016-17 SCY Recap
What a great SCY season! We scored the most amount of points ever in USA-Swimming's Virtual Club Championships (VCC), and to do that there were plenty of individual accomplishments - be sure to check them all on the links below:
2016-17 SCY Standard Breakers
2016-17 SCY IMX Scores
2016-17 SCY Fast 5
GwinAq SCY All-Time Top 10
2016 Fall Attendance Award
2016-17 Winter Attendance Award
---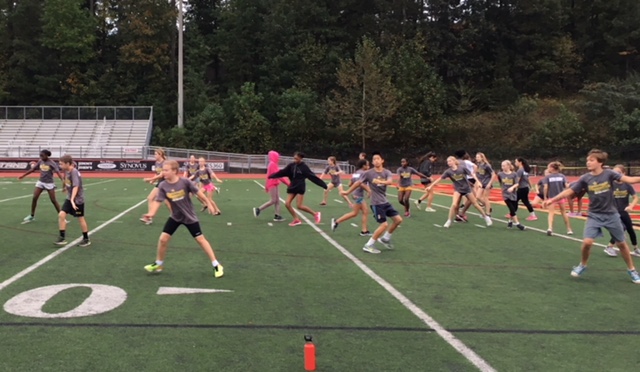 Swimmers Stretch in Fall Racing Series #2!
Gwinnett Aquatics swimmers had their second meet of the 2017-18 season at GAC last Saturday. Ga-Ga and three other teams tested how their training is coming along by extending their race distances in free, back and IM from the last meet. Things look to be moving along well as over a dozen swimmers picked up new standards, including Cate Rovie picking up her first ever state cut!
Sarah Jahns got her first AA of the season while Ava Gawronski, Kaylee McLester, Rachel Peden and Caitlyn Petmecky got their first A times (Girl Power!); Condi Britton, Haley and Hanna Burke, Andrew Guo, Janelle Mitchell and Riley Spruiell earned their first BBs of the season; Elena Kaiser and Reagan Miller got their first B times while a few others had their first meet of the year and got back on the Standards list.
Guo, Mitchell, Rovie, as well as Bria Carter, Wesley King, George Mathew, Emily Morgan, Ella Moulder, Nolan Patterson, Brandon Shepard, Graham Simmon, and Dylan Willis were 100% best times! As always, you can check out full meet results, team results, and our current list of Standard Breakers for the season by clicking on the links below.
Following the meet, our HS-aged swimmers headed out to their annual campout, where quite a few got their first real taste of sleeping outside, helping set-up a campfire, chop vegetables, cook and clean (and we could do much better on cleaning)! On Sunday, they were joined by the Prep swimmers and parents for some Whitewater rafting. It was one of our largest groups ever on this trip, both for camping and for the rafting, and this time most people stayed in their rafts through the rapids!
Now we have one more week before our next meet, the 3rd and last of our Fall Racing Series, and after that we'll be getting ready for the first larger invitational meets of the season! We also are still planning on our last Prep/HSTG/Sr bike ride this weekend (weather permitting), and as always there is a lot more happening in and out of the pool, so be sure to read on and stay up to date!

Gold and Prep Wednesday Schedule Changes Today, Oct 18th
Starting today, October 18th, Gold practice schedule will shift 15min earlier - 5:15-6:45pm. Prep practice will start 15min early, but finish at the same time (6:00-8:15pm). Please note these times will be for Wednesday practices only!

Become a Gwinnett Aquatics / Georgia Swimming Official - Online Clinic Tonight!
Parents, are you interested in becoming a USA Swimming Stroke & Turn (S&T) Official with our team? At all meets we go to, and especially on those we host, parent officials are needed to guarantee the level playing field and the quality of competition. Plus getting involved and helping out certainly beats sitting on the stands! If you're interested in joining our awesome group of Parent Officials, training for Stroke & Turn is now being offered online - you can take it from the comfort of your home!
We are currently in need of Stroke and Turn officials, especially some parents of 10&U swimmers as most of our officials now have kids swimming in the 11&O sessions. There's an online clinic for Stroke and Turn officials tonight, October 18th, 7:00pm-9:30pm. We would love for some of our parents to join our awesome group of officials! If you have any questions, please contact Judy Narde (narde@bellsouth.net or 770-833-7464). Judy can answer any questions you may have concerning the training and requirements. If you're not too sure, you can also talk to one of our coaches about it. If you would like to take tonight's class, just click on this link. Also, please note that working as an official in one of our hosted meets does count towards satisfying the volunteer requirements.
Please let Judy know if you sign up to take this class online. You will want to tell the instructor that you are with Ga-Ga so you are registered with our team (plus, for those who don't wish to just deduct the costs from their taxes, we do refund the costs of the certification). You can/should also read this article - it is a great one, with general information about officiating and the step by step process to become an official.
Rent a swimmer next 3 Sundays
Our Senior group, and some of the HSTG swimmers, will have their winter training trip this year, and are renting out their services in order to help raise funds to cover that trip. They are available to help through the next 3 Sundays (October 22nd, October 29th, and November 5th). If you need some help with housework, yard work, you name it, please contact Coach Hugh (hugh@gwinnettaquatics.com) with the specifics (task, how many swimmers you think you'll need and for how long, and which day) and we'll get it scheduled. There is no set fee for these services, and all the money donated to the swimmers will be put in a fund to help cover costs for the trip to all those who apply for it.
Prep/HSTG/Sr Silver Comet Bike Ride This Sunday, Oct 22nd
Our last ride for the Prep/Sr/HSTG bike ride series is scheduled for this Sunday, Oct 22nd. It will depend on weather once again, so we'll send an e-mail Sunday morning either confirming or canceling it. The plan is to leave from Hiram Trail Head (map) at 2:00pm, ride 22miles in the Silver Comet to Rockmart, where we'll rest and snack prior to riding back. We plan on making it back to Hiram by 6:30pm, and have dinner in Smyrna. This will be a 44mile ride, which is quite more than any ride before. Everyone going on this ride should be able to keep up with the group, or have an adult to ride with.
Feel Like Moving Some Mulch?
We got an unexpected delivery of mulch this week, and need help spreading that out. If you'd like to help just show up at the pool any day next week between 5:30pm and 7:00pm. We'll provide the wheel barrels and shovels.
Keep up Your Training During School Holidays
With the holidays fast approaching it is important to remind everyone to plan ahead so that your training is not interrupted. Prep and Senior are expected to keep up their training schedule during holidays (and will take advantage of days off from school to actually ramp up their training hours).
If you are traveling, you should make arrangements to train the same number of workouts as your group at home will do. The best option is to arrange to train with a team where you are going; if that is not possible, find a pool with adequate training hours and space and take workouts with you (contact your coach if you need help with either one of those).
For younger swimmers, breaks of more than three to four days could set you back! Our training schedule for Thanksgiving Week will be out next week. Over the winter school break both Senior and Prep will have frequent doubles and will train every day except Christmas and Sundays, while Blue and Gold practices will be offered 3-4x/week (we'll have a tentative schedule for that break posted soon).
Up Next: Fall Racing Series #3, Oct 28
Our 3rd and last meet of the Fall Series will be the Fall Racing Series #3, back at GAC. At this meet, in the morning session we'll offer some of the distance events that many kids don't get to do at most meets (either because they can't attend Fridays or because those are limited entries) - 400IM, 500Free and 1000Free. In the afternoon, we'll have a few distances of every stroke. All Prep/HSTG/Sr, as well as most Gold swimmers, should attend both sessions. All Blue team swimmers should attend in the afternoon only. If you have questions regarding which session(s) to attend, please contact your child's coach ASAP.
Replies for this meet are past due, and entries are posted below. Please, always double check your entries for possible mistakes!
Coming Up: Rays' IMX Invite / Dynamo Woodie B Invite
The first Invitational meets we will attend this season will be the Rays' IMX Invite in Marietta, Ga and Dynamo's Woodie B in Chamblee. For these meets, we'll split our squads depending on age and time standards achieved (either this season or last season).
All 10&U swimmers, as well as all 11&O with 'A' times or above for their current Age Group should attend Woodie B fully. For 11&O, this is a timed final meet on Friday afternoon (2:30pm warm-ups), and a Prelim/Final meet on Saturday and Sunday (all Prelims in the morning) - all 11&O swimmers will be expected to be available for Finals! For 10&U, this is a Timed Final meet on Saturday and Sunday afternoon. This meet is at Dynamo Chamblee (3119 Shallowford Rd NE, Chamblee, GA 30341). Complete meet info is not yet available, but you can go ahead and RSVP for it using the link below.
All swimmers not attending Woodie B should attend the Rays' IMX Invite. Swimmers who will have to miss one or more days of Woodie B should discuss attendance at this meet with their coach. This is a timed final meet, with all swimmers racing in the morning on both Saturday and Sunday. There is also a 1650 offered on Saturday afternoon - swimmers interested in doing this event should discuss it with their coach. This meet is at the Mountain View Aquatic Center (2650 Gordy Pkwy, Marietta, GA 30066). Complete meet info is available in the event page (link below)
As we need to submit our entries well in advance for larger invitational meets, or risk being locked out of the meet, replies for both these meets are now past due. If you missed the deadline but would still like to attend, please contact a coach ASAP. Please note that we now have a late fee ($5) for swimmers/families who are late replying to meets.
Time to Reserve your Rooms for Divisional Champs - only 10 more rooms available!
Once again, we'll cap off our 2017–2018 SCY season with the Divisionals meet in Athens. This is our big end of the season meet and it really has a fun family atmosphere. All swimmers should plan on attending this meet fully.
Many families may choose to spend the night in Athens - this is especially important for the 11&O swimmers, as the Prelim/Finals format will mean early mornings and somewhat late nights at the pool. Our block of rooms at the Spring Hill Suites (3500 Daniells Bridge Rd Athens, GA 30606) sold out quickly but the hotel has allowed us to add 10 more rooms. The hotel is conveniently located by the pool and the suites format really lends itself well to families (all rooms have an extended office/leaving room area).
The team rate is $139/night for a double queen suite plus a pull out sofa. Each room has a microwave and fridge and a semi-separate seating area. There is also a guest laundry on the first floor which is great to dry those wet towels from the pool! Once these rooms are gone, we can't add more so please secure your group rate by using this link.
Note: as in years past, will also offer catered meals during the meet at the team hotel. More information about this optional meal service will be available around February/March.

Honor Roll
As the first nine weeks of school have gone by it's time to recognize our swimmers for their achievements in class! If you had all As and Bs on your report card, please reply to this e-mail so you can be on the Ga-Ga Honor Roll that will be published here starting next week!

Fall Clinics
If you know any swimmers who do are not quite ready to commit to the full team program but are interested in improving their swimming please let them know about our clinic offerings! We have a homeschool stroke clinic Monday, Wednesday, Friday at 12:45pm; and we also have a a 14&Under clinic Wednesday evenings and Saturday afternoons, starting this week. Registration for both clinics is currently closed online, but if you know of anyone who is interested just have them contact us and we can get them in.

---
School-Year Practice Schedule
Blue Team - M, T, Th, Fr 5:30-6:45pm; Sat 9:30-11am
Gold Team –Mon-Fri 5:30-7pm; Sat 9:30-11am
*Wed will move to 5:15-6:45 starting late October
Prep Team – M-Th 6:15-8:15/45pm; F 6-8:15pm; Sat 7:30-11am/10:15am-12:30pm
*Wed will move to 6:00-8:15pm starting in late October
Senior Team - Mon, Wed, Fri 3-6pm; Tue, Thu 3-6:15pm; Sat 7:30-11am
*Mon, Wed 5-6:30am for select swimmers
HS Training Group - Mon-Fri 2:45-5:00pm; Sat 12noon-2:00pm


---
Gwinnett Aquatics