Printable Version
2016-17 CALENDAR
You can view the entire calendar by clicking the link above (already includes the most important dates for LCM Season!)

TU Event Page

Use this link for more info on each event and to sign-up for them.

You can go ahead and respond to every meet of the SCY Season

(if something comes up, you can change your reply later).
Feb 25 - Regular Practices (Fun Meet canceled)

Feb 28 - Mardi Gras Practices (regular practice schedule)
Mar 2 - Prep Parent/Swimmer Meeting (more info below), 6:15pm
Mar 4 - Relay Meet @ Ga-Ga

Mar 9-12 - Senior Sectionals @ Greensboro, NC

Mar 24-26 - Divisional Champs @ UGA

Mar 31-Apr 9 - Spring Break
(NO practices)
Apr 22 - Spring Workday
Apr 29-30 - LC Kickoff @ Ga Tech
---
---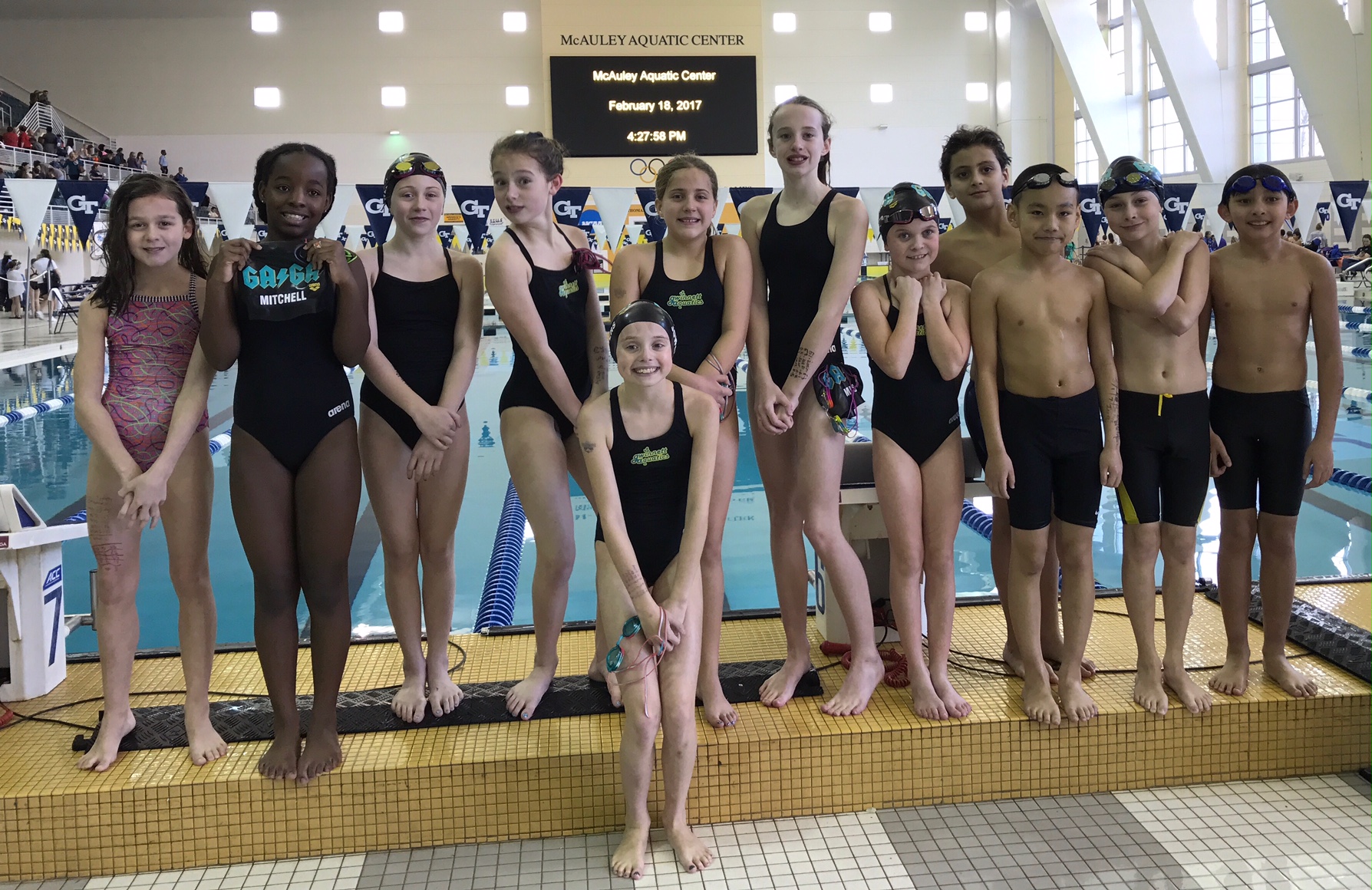 Ga-Ga Third in Medium Team Division at 14&U State Champs
Gwinnett Aquatics' Age Groupers had our best State Meet to date at the 14&U Champs last weekend at Georgia Tech. Grant Deckers, Marlowe Misner and Isaac Saenz led our largest group ever with 27 scoring swims between them, including 9 top-3 finishes, and Lindsey Diehl and Darnell Mitchell also scored multiple times! To top it off, our relays were incredibly strong, with every relay scoring, and breaking seven (!!!) relay team records in the process.
With all those scoring swims, GwinAq moved up five places from last year for our highest ever finish at eighth overall (ahead of a few teams over twice our size), third in the medium sized teams division! Misner broke team records in the 10&U Girls 50 an 100 Fly, while Saenz broke the 10&U Boys 50 Fly. The relay records broken were: 10&U Girls 200 Free (Hannah-Claire Jowers, Grace Flemming, Caitlyn Diehl, Misner) and 200 Medley (Jowers, Mister, Hailey Dopson, Diehl), 11-12 Girls 400 Free and 400 Medley (Sofie Rees, Danielle Mitchell, Lindsey Diehl, Hanna Burke), 11-12 Boys 400 Free (Deckers, Russell Hart, Nolan Patterson, Graham Simmon), and 13-14 Girls 200 Free and 200 Medley (Lauren Diehl, Kaylee McLester, Ava Gawronski, Maggie Nguyen).
Misner also picked up her first ever AAAA time; Wesley Carter and Darnell Mitchell got their first AAA times; and Deckers, Lindsey Diehl and Sophie Rees got their first AA times! Deckers, Rees, Jowers, Darnell Mitchell, as well as Henry Breiding and Dylan Yin were all 100% best times! It was a real stellar performance, and a team-wide effort to have such a great meet, which showcases all the great work our swimmers have put in so far this season. You can check complete meet results, team results, team scores, and our full list of standard breakers by clicking on the links below.
We're now back to training, and the goal is to top off an already successful season with even better performances in our March meets! Up next we will take eight Senior swimmers to Senior Sectionals and then the entire team will finish out the season at Divisional Champs March 24-26 at UGA. With just over 4 weeks left in the season, it's time everyone makes the best of their preparation, through consistent, hard & smart work!

Fun Meet Canceled, Regular Practices this Weekend
As it's been only a couple weeks since our meet, we decided to run our regular practice schedule this Saturday, February 25, and thus will not have a fun meet. But don't be fooled, every group will take advantage of their time and get up and race during practice! Plus, we're hoping everyone will participate in the Relay Meet (more info below) as one last chance to sharpen their racing skills in preparation for Divisionals!

Prep Parents & Swimmers Meeting Mar 2, 6:15pm
On Thursday, March 2nd, we'll have a meeting for Prep parents and swimmers. The main topic will be the progression of our swimming program during the middle school years, and how can swimmers prepare for the transition into either Senior or HSTG when moving to high school. We strongly recommend ALL our 7th and 8th graders and their families to attend this meeting! For parents of our 6th graders, there will certainly be a ton of great information that could be useful to get to know a year in advance.

Up Next: Ga-Ga Relay Meet Mar 4
As mentioned above, right now we're back in full training mode to prepare for the end-of-season meets - Senior Sectionals for a few qualifiers, and the Divisional Champs for the whole team! In order to keep our racing skills sharpened through this last training cycle, we'll have a Relay Meet at our own pool on Saturday, March 4th. Warm-ups will be at 9:00am, and we plan to be done by 12:30pm, so this will be roughly during regular practice time.
More info can be found in the event page (link below). We'll split all in attendance into two teams, and in order to set up some great racing opportunities we ask that everyone go ahead and sign-up - final deadline is March 2nd! This will be a great, fun opportunity for all our swimmers to practice their racing skills - oh, and we're also planning on having a parents/coaches relay as well - so parents be sure to bring a suit, and we're sure this will be the swimmer's favorite!
Coming up: Divisional Champs Mar 24-26
The Divisional Champs will return to the UGA pool in Athens, March 24-26. This is a 2.5 days meet, with timed finals for all ages on Friday evening, Prelim/Finals on Saturday and Sunday for 11&O, and timed finals for 10&U in the afternoon. This is the last meet of the SCY Season, and our largest TEAM meet of the entire year! It is always a great competition and a fantastic way for our swimmers to cap off their season. We'll once again be in a battle for the top-3 (where we've been for the last several years), and count on our parents to help us bring the Spirit Award one more time!
For this meet, all swimmers are expected to participate fully! Complete meet info is now posted on the event page (link below), and sign-up deadline is March 9th.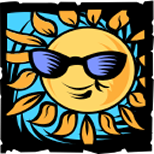 Time to Plan for a Great Summer Season!
Long Course season kicks off April 10th, as soon as we come back from Spring Break. The summer months provide a unique opportunity for the young swimmer to train more intensely, with fewer other commitments away from the pool. Swimmers who truly commit to the season usually far outpace their teammates whose training is more intermittent. Even though it is shorter (just 11-14 weeks!) this is the season where we see swimmers make the biggest strides each year. This year we are hoping even more of our swimmers and families will take the plunge!
Doing the season right also requires a commitment from the family, including planning extended travel for after the championship meet the swimmer is attending - in such a short season it is important to plan so there are no breaks in training. Some of the most important times to be at practice are late June through July (including the weekend of 4th of July). If you do have to travel, the next best step is to arrange to do the same number of workouts the swimmer would if he/she were home, preferably with a local, competitive USA-S club. And just as important, make sure to attend the appropriate meets, especially an end of season meet to focus on fully, with no other activities around the same weekend. As always, we're also planning have some fun activities for the season - open water swims, Six Flags, and a few great meets, including a travel meet for Senior and Prep.
With regards to summer league, we expect (and encourage) most of our age group swimmers, in addition to their training at GwinAq, to participate on a summer league team - especially if it's their local team, where they first started swimming! It's a great way to showcase our program, by both swimming to your best ability at all your meets and being great teammates. That mix of character and improved athletic ability should be the best way to help recruit new swimmers to the program! During the summer months, for Blue team we recommend they alternate swimming a day with GwinAq and a day with the summer league team; Gold swimmers should swim at least 3-4 and as often as 6 days weekly with GwinAq and occasionally with their summer league team (they could do both, preferably am and pm, once or twice/week); Prep and Sr swimmers should make all GwinAq workouts and only stop by their summer league teams to help out and communicate with their coach. Talk to your coach early and often to try to make the best of the training time you have!
You can check all the meets and important dates for the season at the 2017 LC Calendar posted below. The Spring Interim Schedule, which we we will follow between April 10 and May 6th, is posted at the bottom of this Newsletter, while the schedule for the summer months (once Gwinnett Schools are out) is posted in the link below - please note, we recently got notice that the RCY pool might be closed for this summer, so there's a chance we'll need to review our practice schedule (as much as possible, we'll keep practices roughly at the same times). Finally, for those who would like to order personalized (name) silicone caps for the summer season, use the link below to do so by March 12th!

---
School-Year Practice Schedule


Blue Team

- M, T, Th, Fr 5:30-6:45pm; Sat 9:30-11am


Gold Team

–Mon-Fri 5:30-7pm; Sat 9:30-11am
*Wed will move to 5:15-6:45 starting late October


Prep Team

– M-Th 6:15-8:15/45pm; F 6-8:15pm; Sat 7:30-11am/10:15am-12:30pm
*Wed will move to 6:00-8:15pm starting in late October; 6:30-8am may be offered starting in late October.


Senior Team

- Mon, Wed, Fri 3-6pm; Tue, Thu 3-6:15pm; Sat 7:30-11am
*Mon, Wed 5-6:30am for select swimmers


HS Training Group

- Mon-Fri 2:45-5:00pm; Sat 12noon-2:00pm



Spring Interim Schedule (April 10 - May 6)
Blue Team - Mon-Thu 5:45-7:15pm; Sat 9:30-11am
Gold Team - Mon-Thu 5:45-7:15pm; Fri 5:30-7pm; Sat 9:30-11am
Prep Team – Mon-Thu 6:30-8:30/9pm; Fri 6:00-8:15pm; Sat 10:15-12:30pm
Senior Team - Mon–Thu swim 3:30-5:30, dryland 2:40p or 5:40pm; Fri 3-6pm; Sat 7:30-11am
*Mon, Wed 5-6:30am for select swimmers
HSTG - Mon-Fri 2:45-5:00pm, Sat 12noon-2:00pm
---
Gwinnett Aquatics