Printable Version
2017-18 Season Calendar
You can view the entire calendar for the next season by clicking the link above

TU Event Page

Use this link for more info on each event and to sign-up for them.
Dec 15 - NO HSTG/Prep practices;
Blue/Gold normal schedule
Dec 16 - NO Blue/Gold/Prep practices
Dec 15-17 - Lanier Winter Invite @ Gainesville, Ga
Dec 18 - Blue/Gold Christmas Party (more info below)
Dec 21 - Jan 3 - Winter Break Training Schedule (updated Dec 13)
Jan 12-14 - Rays' Coaches Invite @ Mtn View Aquatic Center (Marietta, Ga)
Jan 13-15 - Eastern Classic @ Dynamo
Feb 9-11 - GwinAq Qualifier
Feb 16-18 - Age Group State Champs
Mar - Divisional Champs @ UGA (Athens, Ga)
---
Education Column
We come across a few great articles on a variety of topics - parenting, nutrition, mental training, sports parenting, drills, etc. In this column we'll share the best one every week. Be sure to check it out and click the link to read the entire article!
How To Swim for Yourself
"Over the years, when swimmers email me questions about competitive swimming, I often come back to the same mantra: "Swim for yourself."
The questions I receive mostly have to do with pressures – external pressures, pressures from coaches, parents, teammates. Of course, there are a lot of internal pressures as well. Pressures to succeed. Pressures to perform well. Pressures to win.
I never learned how to "swim for myself" until I was around 20-years-old. It wasn't that I was necessarily swimming for other people — I didn't necessarily swim for my parents, teammates, or coaches. But at the same time, I wasn't swimming only for myself. I wasn't swimming just for the pure love of doing something just because I could." click here to read the whole article.
---
Dec Payments Past Due
December fees are now past due. Payments are due on the 1st and are considered late after the 5th. Please note that if a payment is not received by the 10th, a $25 late fee is added. You can mail a check, pay in person at the pool, or log in to your on-line account and pay by credit card or e-check. You can also pay on our Square On-line Store using the link below.
Mail payments to:
Gwinnett Aquatics
4691 Bryson Cove
Lilburn GA 30047
(Or put in coach Hugh's mailbox at the pool).
---
GwinAq's Affiliate
SwimOutlet.com
Gwinnett Aquatics is an affiliate of SwimOutlet.com. Use the link below to search SwimOutlet for some of the best prices on swim equipment. Be sure to use this link and your purchase will also support our program.
---
2017 LCM Recap
Our last LCM season was certainly one to remember! We topped our best-ever score in USA-Swimming's Virtual Club Championships (VCC), and that was thanks to our swimmers' individual accomplishments - we had our largest numbers of swimmers with A times or higher (43!). But the best display of our improvement came in the whooping 10 new club relay records set through the season! Check the links below for more info on such a great season!
2017 LCM Standard Breakers
2017 LCM IMX Scores
2017 LCM Fast 5
GwinAq LCM All-Time Top 10
2017 Spring/Summer Attendance Award
2017 LCM VCC Score Summary
2016-17 SCY Recap
What a great SCY season! We scored the most amount of points ever in USA-Swimming's Virtual Club Championships (VCC), and to do that there were plenty of individual accomplishments - be sure to check them all on the links below:
2016-17 SCY Standard Breakers
2016-17 SCY IMX Scores
2016-17 SCY Fast 5
GwinAq SCY All-Time Top 10
2016 Fall Attendance Award
2016-17 Winter Attendance Award
---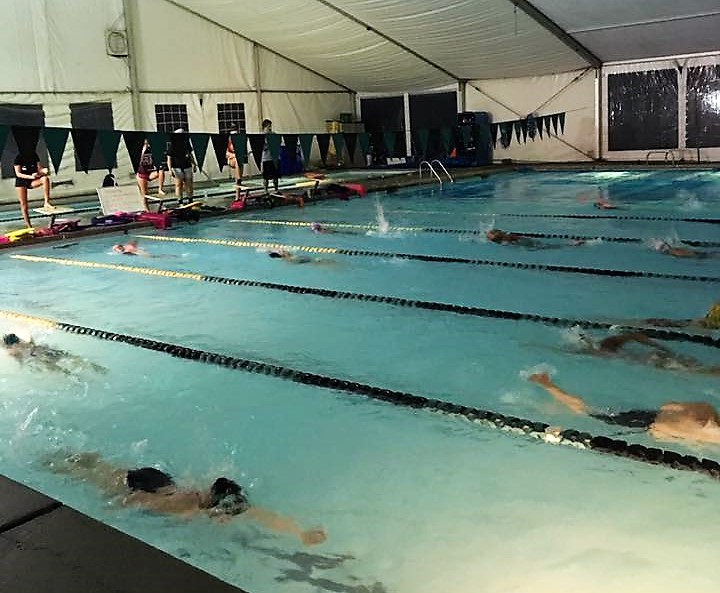 Swim-a-Thon Almost a Wrap!
- And Seniors Strong at State in Rebuilding Year!
All the groups have now finished their swims for the 2017 Swim-A-Thon. For those who missed it, since we had to cancel the make-up due to the weather last weekend, we'll try to make those up during regular practice times latter in the season. The main thing that's left now is to finish collecting and turning in all donations. All packets and money should be turned in by tomorrow, Thursday, December 14th. As mentioned before, if you did your donations online (either through Team Unify or on Facebook) you don't need to worry about bringing in anything. Also, please note that not all funds will be reflected in the on-line total - Facebook, check and cash donations will only be added if they bring the swimmer over one of the national Swim-a-Thon prize thresholds.
With an incredible $1285 raised, Reagan Miller is currently our top fundraiser! Sarah Heppe has raised an impressive $700.00, McKenna Thacker has over $650.00, and Grace Flemming over $500.00! 14 other swimmers have raised at least $250.00 - which was our family goal for this year, and 20 more raised $150.00 or more - and thus have all earned this year's Swim-a-Thon Prize! At the bottom of this article you can find a Gwinnett Aquatics gift receipt you can hand out to those (individuals or businesses) who make donations - remember, we are a 501(c).3 organization, so every donation is tax deductible. Next week we'll publish which group wins the Pizza Party as a prize for raising the most per swimmer!
And while many swimmers worked very hard on the fundraising portion, the swimming was also fierce! Returning Blue teamers clocked in the largest improvement, dropping 48 seconds per 100 on their timed swim! Prep had the second largest drop, with 12 seconds per 100. Gold Team dropped an average of 10s/100, HSTG 7s/100, and Senior 2.5s/100. Isaac Saenz broke the team record in the 10&U timed 800 by almost 40 seconds! Complete results are available using the link below.
Thanks again to all who already helped with fundraising (with many going well over our expectations!), and congrats to our swimmers for showing great improvements in their swims! Currently we have raised just over $17,000 toward our goal of $25,000. We hope we can make one last push in these last 2 days to get us closer or reach that goal!
And while most groups' focus were still on Swim-a-Thon last week, our Senior swimmers had a very successful State Champs last weekend (even though the weather certainly impacted the meet). Be sure to read that write-up article below! This weekend, it's time for all other groups to head to our mid-season meet. More info on the Lanier Winter Invite on the article below. And next is already time to kick in our Winter Training Schedule (which has been updated this week). As you can see, there's plenty of reason to read on!
Lanier Winter Invite This Weekend Dec 15-17
This weekend we are heading up to Gainesville, to compete at the Lanier Winter Invite, to be held at the Frances Meadows Aquatic Center (1545 Community Way, Gainesville, GA 30501). Except for those who attended Sr State, this is our biggest meet of the season up to this point, and serves as a true mid-season meet! All 11&O swimmers should be available to swim in finals (be sure you are up-to-date with your school work and studying ahead for Finals week!), and ideally should have a plan to head over somewhere quiet and rest in between Prelims and Finals.
The meet is a little larger this year than in the previous ones, so especially in the morning please be ready for the pool area and stands to be a little crowded. Also, as a result of meet size they are splitting warm-ups so please plan to arrive at the times listed below (note these are different than what's on the meet info):

Friday

: 4:15pm;


Saturday 11&O Prelims

: 7:50am


Saturday 10&U Timed Finals

: 1:40pm


Sunday

11&O Prelims

: 7:30am


Sunday 10&U Timed Finals:

2:00pm

For Finals, be sure to check with a coach (prior to leaving in the morning) what time you should be back. Also, please note there are relays at the end of the Prelims sessions, so check with your coach if you'll be in a relay before you leave! Wear last year's Divisionals shirt (blue) on Friday, this year's team shirt (gray) on Saturday, and last year's team shirt (white) on Sunday. There is a link to the event page below, where you can also find the complete meet info. Updated team entries and a psych sheet are also posted below. Let's get ready for some FAST swimming!

Blue/Gold Christmas Party Next Monday, Dec 18th!
Blue and Gold will have their Christmas Party on December 18th, during their regular practice time (5:30pm-7:00pm), but at a different location! An e-mail went out last week, but here's the main info in case you missed it - please remember to RSVP to Tyler Patterson (rtpatterson1@comcast.net) if your child will attend!

Date & Time

: Monday, December 18th 5:30-7:30pm


Place

: Grace Community Church "Dhouse" (1400 Dogwood Rd. Snellville, GA 30087- The house across the street.)


Cost

: $10 per child
Monies will be collected in the file box at the pool. All monies due by tomorrow, Thursday, December 15th!
Seniors Swimmers Have Strong Showing at State!
As mentioned in our opening article, our Senior swimmers competed at the Georgia SCY State Champs last weekend. Despite having graduated over half the group that competed at this meet last year, and thus having almost 50% new swimmers this year, our swimmers were able to nearly match last years performance team score, holding at about 14th and having 2 swimmers final and 3 score. Drew Grier and Sarah Jahns both had two scoring swims including top-10 swims in the 100 fly and 1000 free respectively. Charlie Fountain also scored in the 1000.
The meet was converted to a timed final meet on Saturday and Sunday due to weather. Our Seniors took advantage of the late starts and extra sleep to record an unusually high number of best times for a mid-season meet and to nearly triple our number of AAA swimmers!
Grier, Fountain, Wesley Carter, Griffin Hammett and Maggie Nguyen all recorded their first AAA's (All-Star times) of the season. Additionally Fountain, Hammett, Grier and Carter picked up new sectional cuts. We even had some swimmers (Jahns, Hammett) pick up new state cuts when they were pressed into swimming off strokes to lead off relays! You can check out full meet results, team results, and our current list of Standard Breakers on the links below.
Holiday Training Kicks off December 21st!
We are now just over 1 week from the school Winter Break, and our Holiday Training Schedule (posted below) will kick off right on the first day! Remember that if you will be leaving town during the break, you should have contacted your coach already. We can help you make arrangements to train with a team where you're going, or find a pool with suitable hours and take workouts with you - but it is important we are given enough of a heads-up for either one of those!
Prep and Senior are always expected to keep up their training schedule during school breaks (and will take advantage of the extra time to actually ramp up their training hours). For younger swimmers, breaks of more than three to four days could set you back! This doesn't mean foregoing family vacations altogether, but it does require some planning. As mentioned above, if swimmers are going out of town our preferred option is to pair them up with a club where they are going - we can help find those, and recommend which ones we think are the best ones around; if that is not possible, then the next option is to find a pool with suitable hours for open swim, and take workouts (please note that, as this will require some extra work from the coaches, this should always be asked well in advance).
Our training schedule for the Winter school break has been updated and is posted below. Senior and Prep will have frequent doubles (note that AM workouts will be only for Prep 1), while Blue and Gold will keep their normal training volume. Once again, be sure to look those over and let us know right away if your swimmer will not be able to maintain his/her training over that break.

Help Gwinnett Aquatics When Shopping at Amazon
Did you know you can support Gwinnett Aquatics when shopping at Amazon? As a non-profit, we are eligible for donations via their Amazon Smile program. Just click on this link and follow the instructions, and then a small portion of all your purchases at Amazon will help us keep our scholarship programs and make further investments in the club (and it doesn't cost you anything!).
Coming Up: Eastern Classic / Rays' Coaches Invite
Following our December meets, we'll take a break (from competing, not from training!) until the second weekend in January, when we'll have the team split into two groups to go racing again! Dynamo's Speedo Eastern Classic will take place Jan 13-15. This is a very special meet in which a select number of teams around the country are invited to bring only 50 athletes, and compete as a team! In the past few years, this meet has featured some of the best teams from Colorado, Tennessee, Florida, and more! This is a Prelims/Finals meet (13&O swim Prelims in the morning; 11-12 in the afternoon) on Saturday and Sunday, while 10&U swim timed finals in the afternoon, and everyone swims timed finals on Monday morning (that's MLK day, so a National Holiday).
We'll pre-select our Eastern Classic team following the December meets, based on results up to that point in the season, taking into consideration our top relays in each age group and each swimmer's best 3 events in Hy-Te Power points. Since this meet happens in early January and is a select meet, in order to participate swimmers need to commit to training through the winter break - swimmers who don't meet their group's expected attendance between Dec 21 and Jan 13 will not be allowed to participate.
As the select number of swimmers we'll be allowed to take to Eastern Classic will leave quite a few others in need of a chance to race, we will attend another meet that same weekend. All swimmers who don't qualify for Eastern Classic (or who don't meet their group's attendance requirements through the school break) should attend the Stingrays Coaches' Invite at Mountain View Aquatic Center January 12-14. This will be a timed final meet on Friday, and then a Prelims/Finals meet on Saturday-Sunday for 11&O (13&O swim Prelims in the morning; 11-12s in the afternoon) with timed finals for 10&U in the afternoon.
All swimmers should wait until we post the Eastern Classic list (likely the week after Lanier Invite) to figure out which meet they should commit to. You can find more info about each one of those meets on the Events Page linked to below.
---
School-Year Practice Schedule
Blue Team - M, T, Th, Fr 5:30-6:45pm; Sat 9:30-11am
Gold Team –Mon-Fri 5:30-7pm; Sat 9:30-11am
*Wed will move to 5:15-6:45 starting late October
Prep Team – M-Th 6:15-8:15/45pm; F 6-8:15pm; Sat 7:30-11am/10:15am-12:30pm
*Wed will move to 6:00-8:15pm starting in late October
Senior Team - Mon, Wed, Fri 3-6pm; Tue, Thu 3-6:15pm; Sat 7:30-11am
*Mon, Wed 5-6:30am for select swimmers
HS Training Group - Mon-Fri 2:45-5:00pm; Sat 12noon-2:00pm


---
Gwinnett Aquatics